Nine Lessons and Carols—Stories for a Long Winter
Chris Bush, Rebecca Frecknall and the Company
Almeida Theatre
Almeida Theatre
–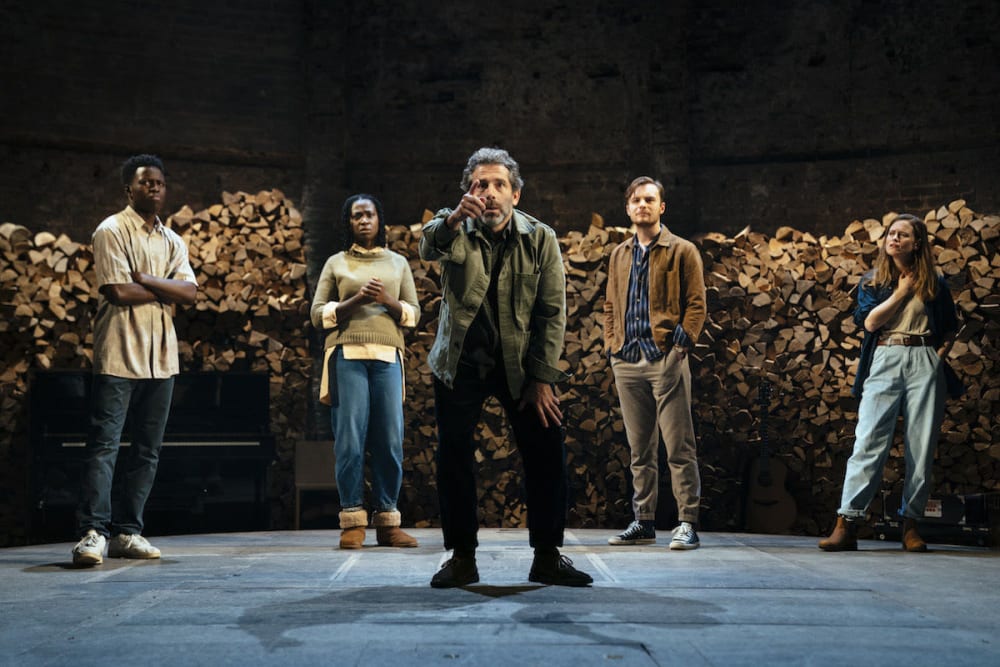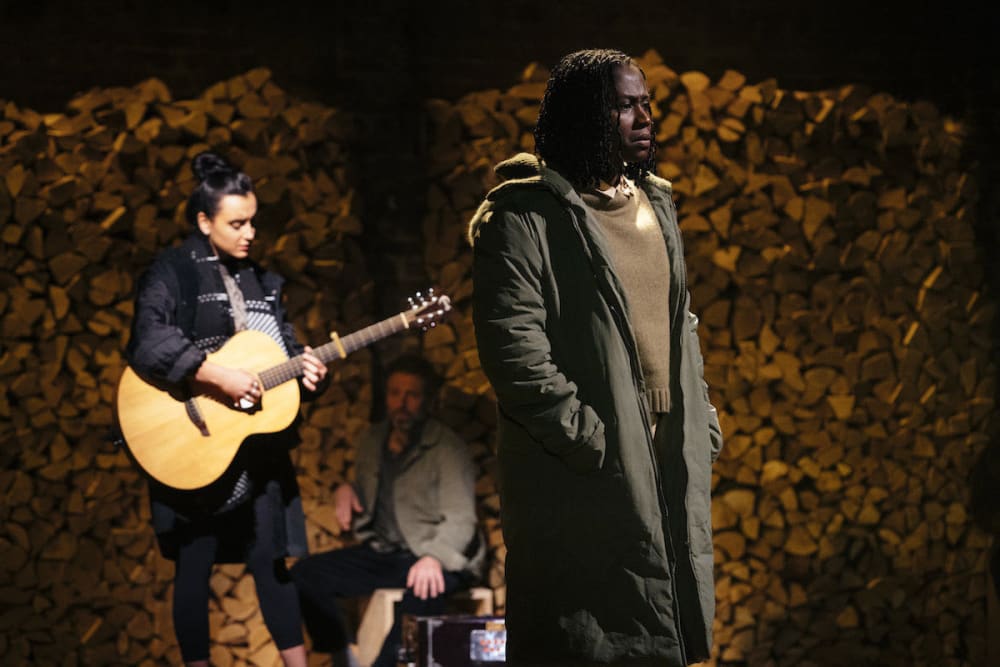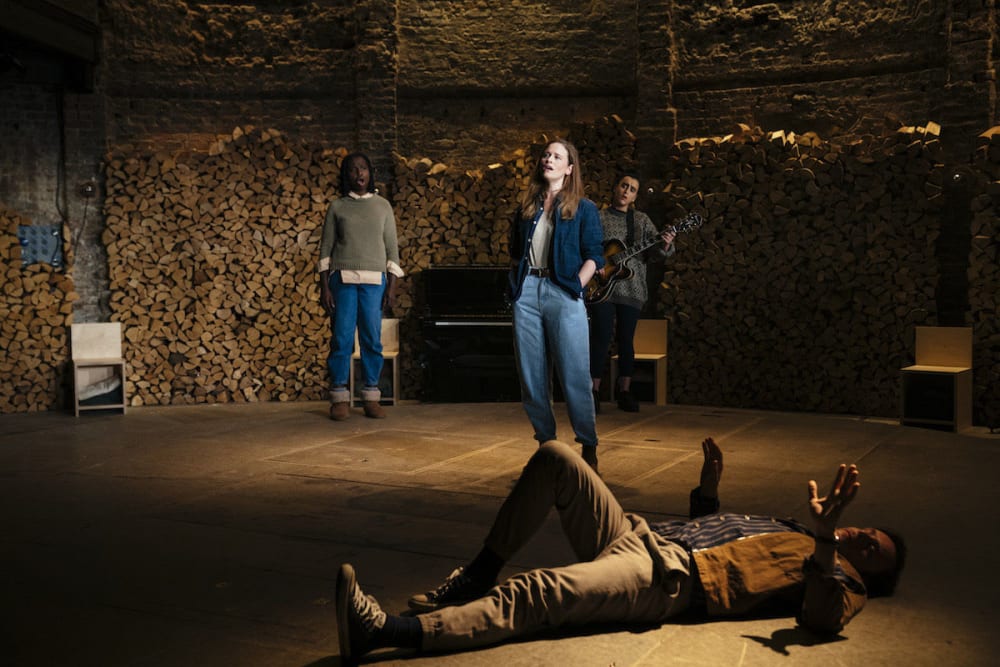 The Almeida Theatre returns to life in the flesh with a work devised by the company and director Rebecca Frecknall and scripted by writer Chris Bush that is clearly a reflection on what we have all shared through the past months, a difficult year for everyone but especially for theatre. On press night, artistic director Rupert Goold came on stage to thank everyone—company, theatre staff, board, donors, audience and even the critics—for their support and help in getting the theatre open again.
In a theatre against the walls of which designer Tom Scutt has piled enough chopped logs to keep us warm through several winters, the performance itself began with another welcome: the recorded voice of 87-year-old actress Annie Firbank, too vulnerable to be actually present, a comment in itself on the situation, who went on to admit that the theatre had been lying: there were going to be no Nine Lessons or carols. Instead what is on offer is an eclectic selection of monologues and interactions intercut with songs.
These are stories that draw on individual experience, but they begin with a new myth of the first folk who lived in isolation until thorns were planted between their shoulders that they needed someone other to pull out and end their pain. A moving metaphor for our need for companionship, a partner, for contact, for touch that COVID has denied us.
The stories that follow, cataloguing loss or need, often gently funny, are presented in a smooth, moving pattern so that you may not notice how carefully the performers conform to required social distance but the experiences they draw on are strongly presented.
There is Katie Bryben as a woman issuing a call for revolution: "burn your bra… burn your house, burn your neighbour's house"; Naana Agyei-Ampadu as a mother mourning loss. In what at first seems a humorous monologue, Toheeb Jimoh is a driver delivering parcels to online shoppers: sex toys to Herne Hill lesbians, Dim Sum to Highgate dinner parties. Elliot Levey as an older man working through a recipe who is mourning his dead wife or in dialogue with Luke Thalon as a son who he seems to need to take care of (or is it the other way round?). Thalon is also a man who rescues a dog tied up in a park, a dog who doesn't get on with anyone or anything but, of course, it about something deeper.
There is a discussion about joining a Black Lives Matter protest, a woman making plans to tour the world, but without her current partner… a kaleidoscope of lockdown experience, sadness and thinking with Maimuna Memon's songs threaded between them, led by her singing. They sound lovely and full of feeling though I missed quite a lot of the lyrics; there is something about those yawning spaces between seats that seems to affect the acoustic.
There is a tenderness about this presentation that is warming without lighting those logs, a reminder of how much our lives need contact and others through these stories that resonate shared experience, though too often sadly experienced alone.
Reviewer: Howard Loxton