Nine Lives
Zodwa Nyoni
Leeds Studio
Bridge Theatre
–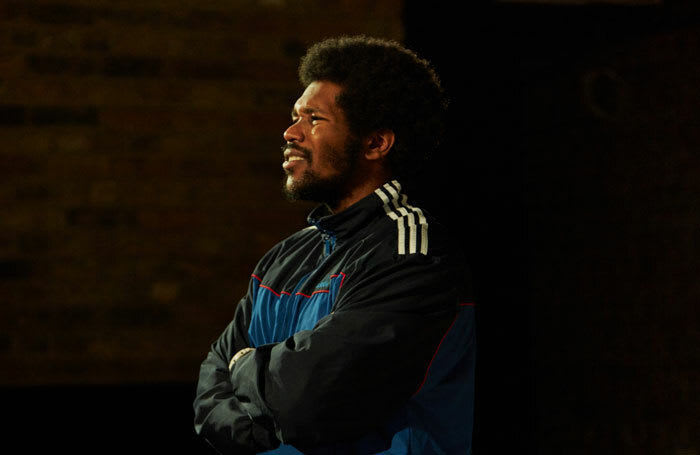 Ishmael was outed as gay in Zimbabwe, where homosexuality is a crime, and fled to seek asylum in Britain. In Zodwa Nyoni's play, he tells his story. First seen in 2014 presented by Glasgow's Òran Mór, who commissioned it in partnership with West Yorkshire Playhouse, she based it on research and interviews with asylum seekers among whom she was surprised to find so many were gay men escaping persecution.
Ishmael's gay lover fled before him and is already living in Britain but now rejects him and Ishmael has been sent to Leeds where he exists on £36 a week while his fate is decided. He is seeking his freedom in a country where immigration officials demand proof that he is homosexual, ask such questions as "what does a penis feel like?" It's a place where he is made fun of when he goes shopping, where, he tells us on opening an official letter, "it says I'm a reference number. I'm an applicant. I'm circumstances. I'm categories. I'm outcomes. But it doesn't say that I'm real. It doesn't say that I exist… It doesn't say that I'm a person."
Lladel Bryant's performance gives this compact monologue (it's under an hour long) a passionate vitality not only making Ishmael a living character but vividly creating those he encounters: the other asylum-seeker he has to share a seedy room with, their unwelcoming landlady who won't even shake his hand, middle-aged Cath who runs a café and especially teenage single mum Bex he meets in the park, morphing into her as she tells her story. Bex is a point of real human contact. Ishmael also briefly experiences freedom ecstatically letting his hair down as he dances his cares away in a gay club.
Alex Chisholm's production keeps things simple—just a hanging light bulb and a suitcase in front of the plain screens used through the Bridge's monologue season. There is some discrete use of music and sound effects but no obvious theatrics, the emphasis is on the actor and Bryant delivers. His express-train delivery coupled with accent and the change in acoustic that social distancing seems to give made me miss snatches of the dialogue, but you can't help but make a sympathetic connection with the character he creates and his performance seems over too soon, leaving one wanting more of this moving study which sadly hasn't dated since it was first seen. Things in Zimbabwe and here stay the same.
Reviewer: Howard Loxton