Nineteen Gardens
Magdalena Miecznicka
Hampstead Theatre / Celia Atkin
Hampstead Theatre Downstairs
–

Listing details and ticket info...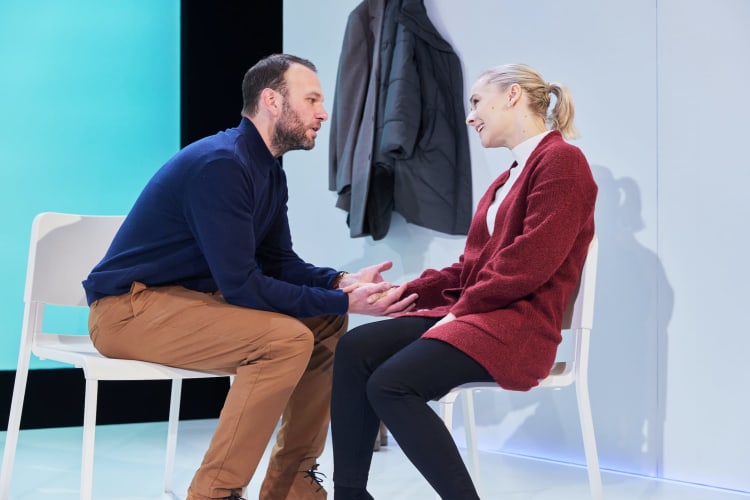 Hampstead Downstairs is an intimate space, but Magdalena Miecznicka's microscopically observed writing in her new play, Nineteen Gardens, builds an expansive world as her words effortlessly lull us into rooms of characterless hotels, beautiful homes and aspirational lovers' dreams. It's a totally transporting two-hander that bites aggressively into the shiny surface of the damaged pair, pulling out painful truths and unresolved loneliness.
The play opens as fake snow flutters from the rafters and former lovers reunite over a coffee to reminisce over the spoils of love. John (David Sturzaker) appears immediately slippery and sanctimonious. He still wants Aga (Olivia Le Andersen) as well as his gilded life in Hampstead with fabulous wife in tow, Cecilia, who we understand is all glittering green-eyed brilliance with no time for her cloying husband.
Aga cleans hotels for a living and will take the bus, not the tube, to save money. She jokes about used condoms left on beds with money left underneath for tips. John flatters her in an irritatingly fey way. Apparently, despite his phenomenal wife, he's missed his ex-lover's intelligence, sharp witticisms and beautiful body.
John hails from money and dreams of his uncle's stables where he once loved a horse, a chestnut called Priscilla. Their social polarity runs deep. He is the living embodiment of everything that Aga craves: social standing, wealth and an easy smugness that comes with knowing you can get what you want.
At first, we are unclear why this couple have met and what the motivation behind such a meeting holds for both, but Miecznicka's satire twists and turns and soon reveals that there is more to the story than meets the eye.
Turns out, Aga's only priority is to find money and security for her children, a far cry from John's lofty platitudes of love. Her life has been blown to smithereens as a consequence of the affair. Aga is here to cut a deal and bribe her former lover to buy her a two-bedroom flat in Bounds Green.
Under the incisive direction of Alice Hamilton, the balance of power reads as an even-handed exchange of game, set and match until we are drawn further into Aga's plight, learning how much her life has been damaged by this secret affair. Her situation is a bleak and lonely one, stuck in a poverty trap, gazing wistfully into her former lover's home from the street, dreaming of cosy sofas and cats. John represents her only way out.
Olivia Le Anderson puts in a powerful performance as Aga. She is beautiful, clever, quick-witted and ruthless. Sturzaker plays John with convincing weakness of spirit, but his work is cut out to build a fully rounded performance as the half-formed lover.
The sound design (Max Pappenheim) veers from classically Bach to Joan Baez, cleverly slicing into the dialogue to denote a change of pace. This works seamlessly alongside a minimalist white cube set from Sarah Beaton. With no more than two chairs as props, pastel shades illuminate the stage, turning the cube from blue and pink to mint green indicating scenes and their different sensations in colour.
Nineteen Gardens may appear superficial at first, but behind the couple's comic flirtatious exchanges sits the darker world of class divisions, the powerlessness of immigrants, the disparity between rich and poor, emotional neediness, heartbreak and finally betrayal ending in revenge.
Ultimately, Aga is nothing more than a pawn in the age-old male-female power game, and such disparity is deeply infuriating and unsettling to watch. Who can match the laconic ease and security that money and social standing can bring? It's such knowledge alone that turns a light-hearted sketch into a moving piece of theatre.
Reviewer: Rachel Nouchi