A Nite With Boy Blue
Choreograpy by Kenrick "H2O" Sandy, Music by Michael "Mikey J" Asante
Boy Blue Entertainment
Theatre Royal Stratford East
(2007)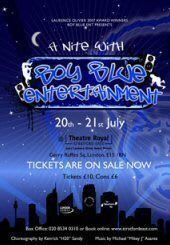 Boy Blue Entertainment is the hip-hop dance troupe who last year won an Olivier for Pied Piper, their thrilling street dance retelling of Robert Browning's poem. This present show is not the same kind of through narrative performance but more of a celebratory showcase of what its members have been working on: twenty-one vary varied short pieces plus two by guest groups Dialight and C-12 Dance Theatre. For two nights it gives these hard-working young dancers the opportunity to show their stuff to friends, families and fans but it is a pity that it isn't playing for longer. A programme of short pieces can't build up the excitement of a continuous dramatic work like Pied Piper but it makes a stimulating and entertaining evening that clearly pleased an enthusiastic audience.
With parts of London's transport system knocked out by floods I had to change routes and systems three times to reach the theatre, abandoning first surface rail, then underground then finding a route by DLR. If I had not been going on behalf of British Theatre Guide I would have given up, for I knew I would be late. I am glad I kept on: it was well worth the effort and frustration and there were already sufficient other latecomers to delay curtain up so I didn't miss a thing.
The programme ranged from a solo dance-mime with a white-masked dummy coming to dance-mime life in an office-set scenario to a send up of the artist known as Prince, a homage to James Brown, to a ska-based comic piece with air hostesses coming on to an airport cleaner, a number influenced by Hispanic social dance to one using Ghanaian moves.
Not everything worked for me. A piece with two women rolling together on the floor while another stroked a bulging belly presumably said something about pregnancy, but I didn't get it, and another using torches as spots of light or occasionally glimmering on faces or body parts failed to ignite, nor did an ambitious attempt to represent sky-divers in the air come off. However, they did showcase dancers' skills and it was interesting to see a wider variety of styles being introduced to the repertoire, though the emphasis is still on break-dance and a drilled angular hip-hop response to a strong beat with more than one number using the device of a rather sinister controller directing a group of robot-like dancers.
A narrative piece by guests C-12 Dance Theatre offered a contrasting style of modern dance that went down well with the audience and perhaps demonstrated ways to Boy Blue's dancers may extend their range in future. A dance for the under fourteen group, 'Da Bratz.' showed there is plenty of upcoming talent among the youngsters, though only two of nine in the group were boys. Break-dance used to be a very male thing but, despite its name, the Boy Blue company has nearly twice as many girls than boys and although a largely black company there are a few white faces and it is open to all who pass their auditions! Aspirants can find out more on www.boyblueent.com.
One favourite with the audience was the nostalgic Jamaican Remember those Days (and a group of ladies round me most certainly did), but I was particularly taken by Ghana Set and by The Awakenin', a work which premiered at 'Breaking Convention' at Sadler's Wells earlier in the year. This stunning piece shows a wall of painted figures brought to life. The programme gives no credits for lighting or design, both of which make an important contribution to Boy Blue's work and especially in this work with its painted costumes glowing with fluorescence under ultra-violet light.
Henrick Sandy and his team have trained their company to move with precision and fluidity and their achievement is impressive while they give accomplished dancers plenty of opportunity to show off their solo acrobatic break-dance skills. This showcase whets the appetite for more.
20th-21st July only
Reviewer: Howard Loxton