No Dogs, No Indians
Siddhartha Bose
Penned in the Margins
Live Theatre, Newcastle
–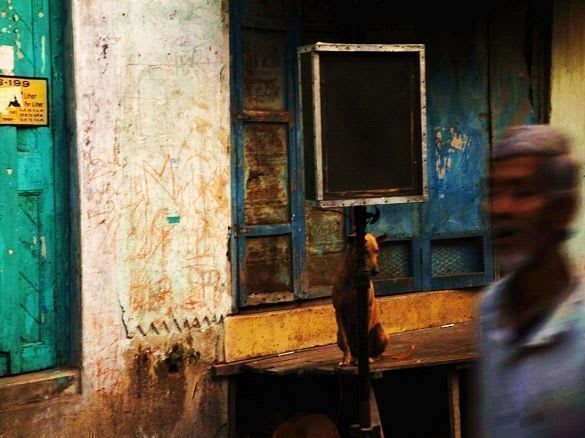 Three stories from three decades intertwine in this play which was written to commemorate the 70th anniversary of India's independence.
In British-occupied Bengal in 1932, Rani, a young woman, is preparing to lead a team of revolutionaries to attack a whites-only club in Chittagong; in the '70s, would-be intellectual and keen amateur actor Shyamal Chatterjee is in love with all things British, particularly Shakespeare; in 2017, Ananda Chatterjee, who has fulfilled his father's dream to be to all intents and purposes English, returns from his home in London on the news of his father's death.
Rani has a clear vision: all Indians—Hindu, Muslim, Sikh, Christian—will drive out the British occupiers and India will be free and united. For this she is prepared to kill men, women and children, but what the attack actually achieves is her own death, by suicide pill.
For Shyamal, his devotion to Englishness leads to major matrimonial problems, and for his son Ananda, who has achieved that desired Englishness and is living in London, returning to India for his father's funeral and meeting the friends of his youth makes him question what being Indian really means.
Four actors—Komal Amin, Archana Ramaswamy, Omar Khan and Ashraf Ejjbair—play nine parts between them across the three time periods. The stories intertwine and we move from one to another and back again under the guiding hand—or rather, under the gesturing arm—of a chorus-like figure, played by Ramaswamy. By means of a raised eyebrow or a smile, or by making eye contact, she strikes up an easy relationship with the audience from the very start and we are happy to take our cue from her.
It's a play of ideas, about politics and history, about national identity, and Bose attempts to show the overarching themes through the personal stories of Rani, Shyamal and Ananda but, try as we might, it is not easy to relate to them. For a revolutionary, Rani is singularly devoid of fire; Shyamal's would-be Englishness is almost caricature and his one explosion into passion seems to come from nowhere, and Ananda's two friends, played by Ramaswamy and Ejjbair, make much more of an impact on us than he does.
It doesn't, unfortunately, quite hit the mark. Intellectually we are with Bose and his characters every step of the way, but we are not stirred emotionally to the extent that we should be. This is not the fault of the actors who really do an excellent job of telling the three stories and keeping the various characters well delineated. Nor, I think, is it the fault of director Russell Bender but, like many plays of this nature, the theme dominates the theatricality, the message is more important than the medium.
Don't misunderstand me; it's still entertaining and enjoyable but it could have been so much more.
Reviewer: Peter Lathan