No Love Songs
Johnny McKnight and Laura Wilde with music from Kyle Falconer
Dundee Rep Theatre in association with Traverse Theatre
Traverse Theatre
–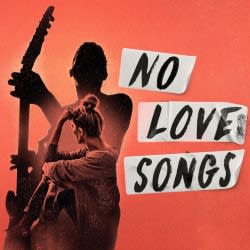 We all have a sound tract to our lives. Songs. A Play List. Each generation has found its own survival skills which too often include a guitar and hat and meals that are created around baked beans.
Lana is going out tonight. Just to have a good time, not to look for a hook-up or a relationship. But she ends up with Jessie for that night and years of nights that followed. The perfect pair. A pregnancy changes the course of their future. "He's terrified. I'm not" So they commit to each other and parenthood and they hope "That We Won't Turn Into Monsters".
The arrival of "the little man" brings with it a tsunami of changes. For Lana, this pregnancy brought unexpected challenges: sickness and depression. Their need of money and stability drives Jessie on the road. "America?" she asks. "For how long." "A month? Two?" Of course he must go. He wants to, she know he wants to. And they do need the money. Of course you must go.
A phone call home is a challenge for him. And he has no idea what she's going through. "He's Never Coming Back." When he finally returns, the relationship has crumbled. "Don't Call Me Baby" But there is a happily ever after.
Kyle Falconer, late of the band The View, has reworked some of the song from his second solo album to fit here. Johnny McKnight and Laura Wilde wrote the book. Dawn Sievewright plays Lana and John McLarnon plays Jessie. They work beautifully together; their voices are a soulful pairing.
Musical director and arranger Gavin Whitworth, lighting designer Grant Anderson, sound designer Ritchie Young, set design stylist Leila Kalbassi and costume design stylist Cate Mackie round out the production team.
This play / musical sometimes feels a little disjointed, as if there are still a few kinks yet to be worked out in the book. The music more than makes up for it.
Reviewer: Catherine Lamm