No Miracles Here
Lee Mattinson
The Letter Room
Northern Stage
–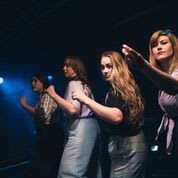 The programme notes to this play include the words, "we were apprehensive about the challenge of making a show that explored the complex and sensitive subject of mental health with humour, energy, music and dancing."
As you might be. More on that later. Let's say firstly that the play adopts the simple technique of seeing the whole production as a single unit. Thus, the six people who perform the live music are the same six people who take the acting roles, slipping effortlessly between the two. In turn, they move downstage away from their instruments, take on their acting roles, then return upstage to play music. Step and repeat in whatever combination required.
This is the tale of Ray (Stan Hodgson), a young misfit working in a mind-numbing North East call centre. Ray dresses drably and his body language suggests he sees his glass as permanently three quarters empty. He is persuaded by his fellow employees to join them to take part in a Whitley Bay all-night dance marathon where participants literally dance till they drop to discover who is the last man or woman standing.
As far as I know, Whitley Bay has never run such a marathon, though this was the subject matter of Sydney Pollack's great 1969 American film They Shoot Horses, Don't They? which got nine Academy Award nominations and for which Gig Young won an Oscar.
The film was based on Horace McCoy's depression era novel and showed desperately poor people willing almost to die of exhaustion to win the prize money as they performed in public for the amusement of the better-off audiences.
No reference to, nor mention of, the film here and Lee Mattinson's play, directed by Meghan Doyle, eschews such desperate economic motivation as a backdrop. Ray, it suggests, is suffering mental problems. One of the first things we are told is that, "by the end of the play, Ray will be dead".
But will he be ? And how will the dance marathon affect him? Find out for yourself. No Miracles Here (I confess I don't really get the title) opened for two nights in Northern Stage's Stage Two before its eleven-venue tour. It's an infectious and disarming one-act piece. It's full of energy, often very funny and with a commitment that new small companies can especially bring.
Michael Blair, Alice Blundell, Meghan Doyle (who also directs), Niall Kerrigan and Alex Tahnee—plus of course Stan Hodgson himself—are the talented sextet and Jeremy Bradfield's original music seems to hit all the right notes, if you'll excuse the pun. No set, no props (except their musical instruments) no backdrop, just an increasing obsessive sense as they dance and they dance and they dance, pushed to their levels of endurance (movement direction by Martin and Debbie Hylton with additional choreography by Alex Tahnee).
I confess the play is less clear on what drives it other than the 1969 film and—to return to that earlier programme note—I'm not sure, despite some financial backing from the charity Mind and the play's bonafide intent, that mental health is its natural subject matter.
The story is a compassionate, allegorical one, human beings caught in the fascinating absurdities that we create or are created for us as we struggle to come to terms with our brief spell on this lump of rock hurtling through space. In the film, it is the downtrodden desperately seeking an escape.
What drives everyone here? Centering on one specific mental health 'case study' type treatment doesn't quite fit and I sense the piece—and possibly also Ray—wriggling to be free of it. There is something of Ray in all of us and in the other people on view.
There again, you might find my intellectual fastidiousness overblown. Go see for yourself. The experience is worth it, whatever.
Reviewer: Peter Mortimer