No More Worries
Simon Mole & Peader Kirk
The Albany, Apples and Snakes and ARC Stockton
The Albany
–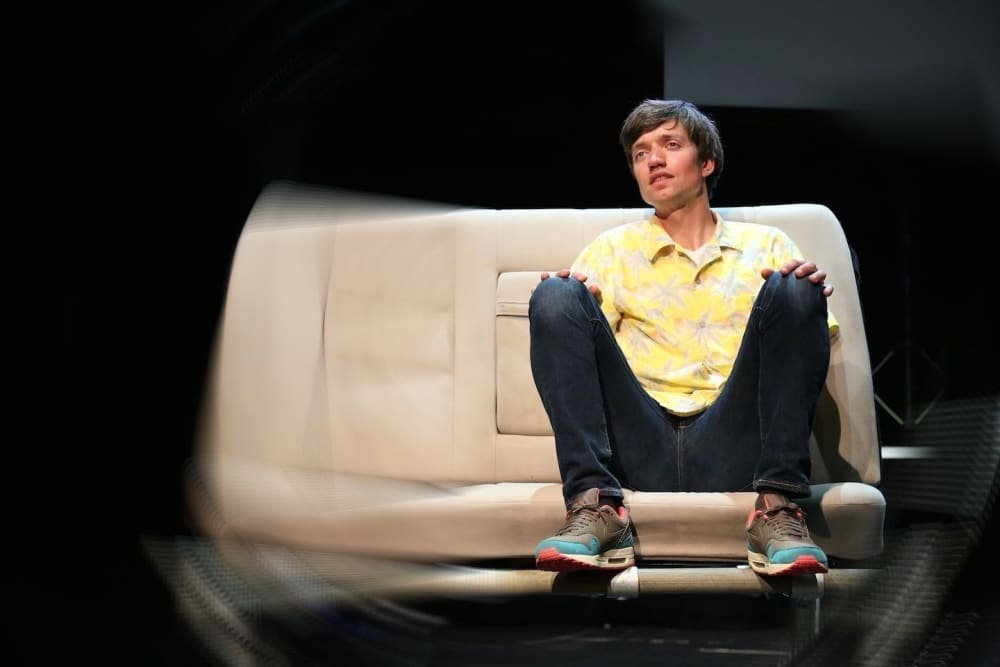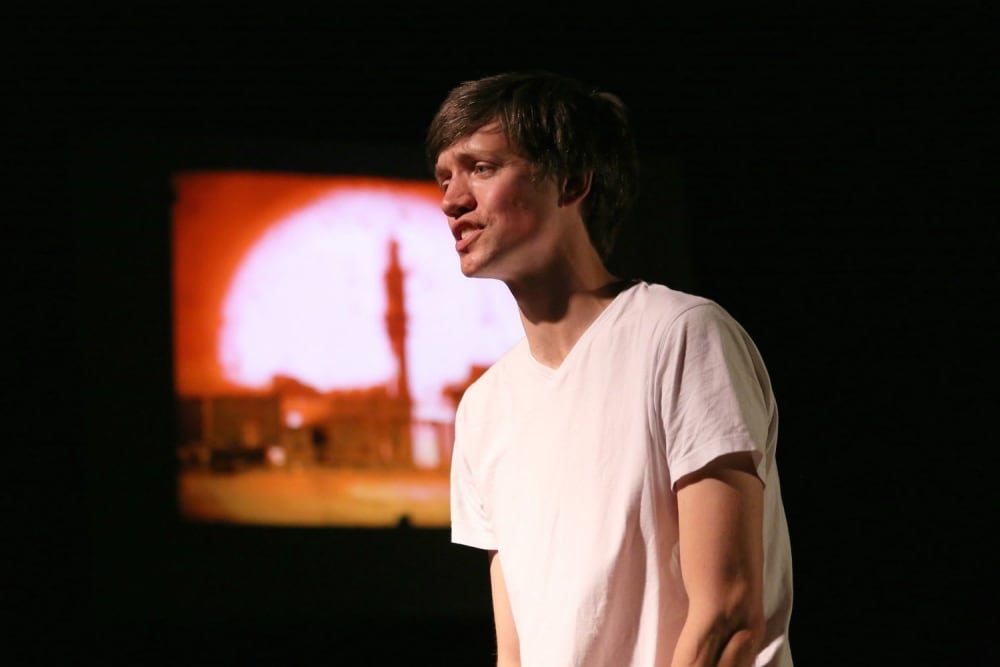 Kieran is a lively, bright-eyed bloke but he's bored. At 27 he is bored by the tired seaside town in which he lives with its shuttered shops and same-as-everywhere stores and coffee shops. Even the posters haven't changed in years and he feels that he knows every pebble on the beach. He's bored with life, his life, wants something different or at least a break, a holiday.
He comes out of the club one night, tries chatting up a girl and then there's this feller, fifty-ish, he'd seen him earlier on the front taking pictures with a Polaroid, drives up in a camper van…
Simon Mole is Kieran, telling his story, simply and directly to the audience. There's no setting apart from a pair of car seats and a video screen, though support comes from lighting and a sophisticated sound score operated from an on-stage table by director Peader Kirk (who is the piece's co-creator) who occasionally discretely steps in to provide his presence as a silent Paul, the man in the campervan.
Bouncing on his feet, this way and that, his body often slightly angled, this Kieran is a likeable lad but there's nothing remarkable about him. He could be any youngster you see with his mates, having a beer or even the half-price Sambuca that's always on offer. He goes on a bit, but there's an engaging rhythm in his voice, a poetic edge to the way he puts things, and when he steps into this stranger's car you want to know what happens.
Paul, the older guy, is driving round the country taking photographs, each carefully set up to match the view on one of the old postcards he's carrying with him. Kieran starts to help him take them but, when a carload of hippyish Mexicans turn up, goes off with them for a time instead.
Kieran seems to represent a generation that can't kick-start their lives into action, Paul one that wonders what went wrong. Though there are decades between them, these two men have one thing in common: they've both lost something—someone—important. There is a past that they can't put behind them.
The inherent humour and wondering why and what will happen keeps you listening and watching but, though there are twists as Kieran's tale meanders, there's no drama in the telling and the regular rhythms of its recounting begin to deaden attention, there is a sameness. Like Kieran you want a change, some interaction.
The accuracy with which Kieran is presented is a splendid characterisation but it's a monologue that goes on too long—one of those guys who just goes on never giving a chance to interrupt or ask a question! You begin to wonder what's his point—or the writer's.
It's a reminder that you can't just wait for things to happen; life's what you make it and there's no point in brooding on the past.
Reviewer: Howard Loxton