No Strings Attached
Charles Entsie
King's Head Theatre
Islington Square
–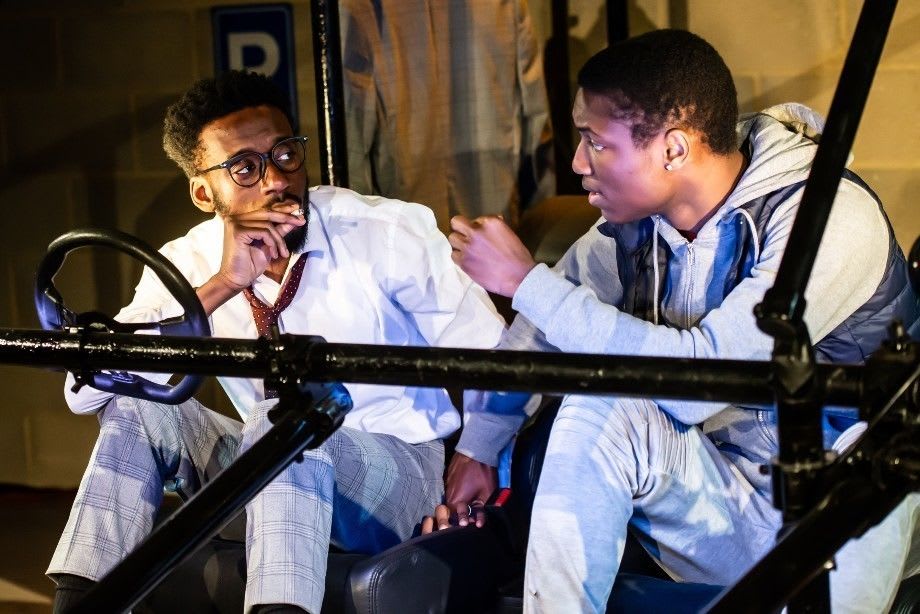 A bleak underground car park is the setting for Charles Entsie's low-key fifty-minute play No Strings Attached. It's not the kind of place you would imagine anyone wanting to spend time. Yet two men sit in a parked car, a very impressive and expensive car that belongs to the older of the two men played by Razak Osman.
He is clearly nervous and if any other car is near, he switches off the car's internal light and bobs down in his seat.
The other occupant (Shak Benjamin) is younger, a sixth-former who casually mentions he is studying economics because he is in business. And though nothing explicit is said or done during the time we watch, the guess is that his business includes sexual encounters with men like the owner of the car.
The forty-year-old wants to talk, so the lad remains for a while, though neither of them trust each other, not even to disclose their names. He speaks about his discontent with the lack of meaning in his life. The youth, calmer, says he wants to be treated "like a person to be looked up to with a car like this and a suit."
Not much happens in the course of the play, but both characters seem at turning points in their lives. We learn very little about them. The dialogue, full of evasions, lies and fantasy, emphasises their distance from each other and can also distance the audience from engagement with the characters. Although it is believable, it never really takes off in a way that has dramatic tension or a serious clash of direction. Both men are lost and what they say and do seems more governed by impulse than any serious purpose. However, the play gives us a glimpse of the closeted, dangerous life that some gay men still experience.
The government's 2017 survey found that one in five LGBT people had "experienced a hate crime or incident due to their sexual orientation and / or gender identity in" the previous twelve months. In that same year, the British Attitudes Survey found that the number of people believing there is nothing wrong with gay sex had fallen for the first time since the AIDS crisis. Is it any wonder that encounters such as we see in No Strings Attached still take place.
Reviewer: Keith Mckenna