No Villain
Arthur Miller
Covent Garden Productions and Turner Theatres Ltd in association with The Old Red Lion Theatre
Trafalgar Studios 2
–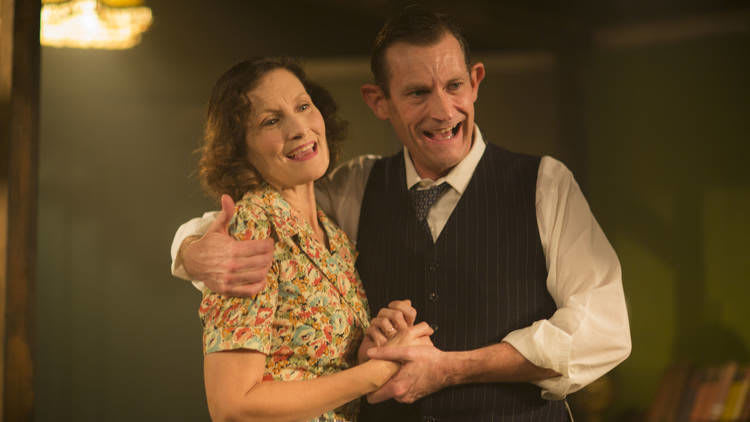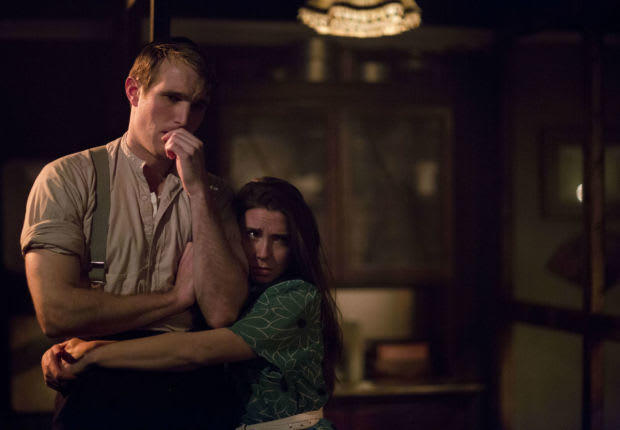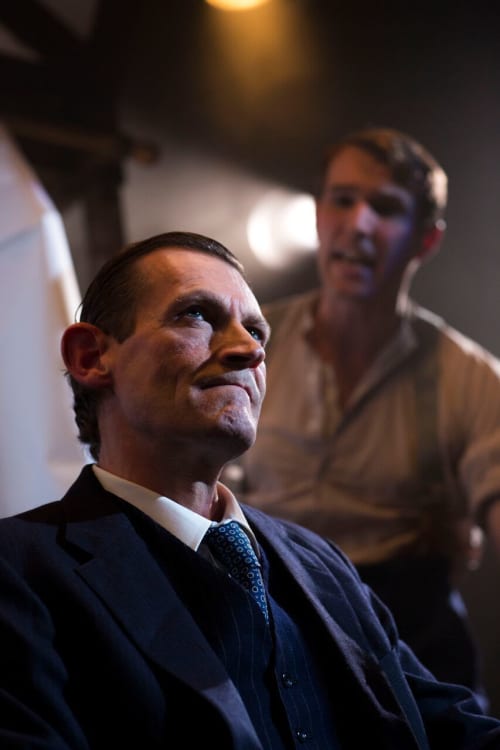 Arthur Miller wrote this play in 1936, entering it for a playwriting competition at the University of Michigan where he was a 20-year old student. It won the $250 prize but had to wait until last year to get staged: this production, directed by Sean Turner, which opened at the Old Red Lion Theatre in December and now transfers to the West End with a couple of cast changes.
Miller said it was, "the most autobiographical piece I would ever write." Like the Simon family in the play, the Millers had a business that collapsed, so he knew what it was like to have no money. It was the thought of that prize money that made him write it and, like the Simon brothers, he was drawn to the possibilities that Communism seemed to offer.
It is Abe, Simon Senior, who declares himself "no villain" when he finds his coat-making business halted by a strike that makes it impossible to deliver his orders. He doesn't see himself as exploiting his workers; he's the boss and does things the way they all do.
Younger son Ben, who's gone into the business instead of to college, can see both sides, the risks of crossing the picket line puts him in a quandary, but he's firm in his refusal to woo the daughter of a big-time competitor who is looking for a successor. His elder brother Arnold, already at university, has got properly political, espousing communist thinking; he more firmly digs his heels in.
It is a very 1930s situation and the wailing of a saxophone sets the mood precisely as we join the family waiting for Arnie who is hitch-hiking home from university. Designer Max Dorey's sitting room somehow suggests a family that's gone down in the world and ingeniously turns into Abe's factory by adding a rack of coats. But it is the actors who make this play work.
David Bromley, looking like an aging Jewish leprechaun, gives Abe a mixture of arrogance and insecurity. Used to giving orders, he's been left-footed and is beginning to panic, though he hides it with anger. Nesba Crenshaw is Esther, the wife in whom he doesn't confide, and Helen Coles is Maxine, the daughter who is daddy's darling.
With the build-up to his arrival, Alex Forsyth's gentle Arnie seems set up to be the dramatist's alter ego but it is his younger brother who resents the political argument. George Turvey gives him sincerity and intelligence, making him more persuasive. There is also sterling work from Michael Lyle as Abe's one loyal employee, Kenneth Jay as Esther's father and Stephen Omer as a couple of rag trade buyers and a doctor.
The play's not perfect. An argument between mother and son is chopped off just where it should develop, the politics are too simplistic and Miller follows his influence too closely, but there is also a foretaste of both the character drawing and the subjects that will recur in his writing.
I found one sound effect to underscore a moment too melodramatic but Sean Turner's otherwise excellent production detracts from any defects in this tyro script. If only every 90-minute play on offer was as good as this is.
Reviewer: Howard Loxton