Noah and the Peacock
Jeff James
Nottingham Playhouse
Nottingham Playhouse Digital Playhouse
–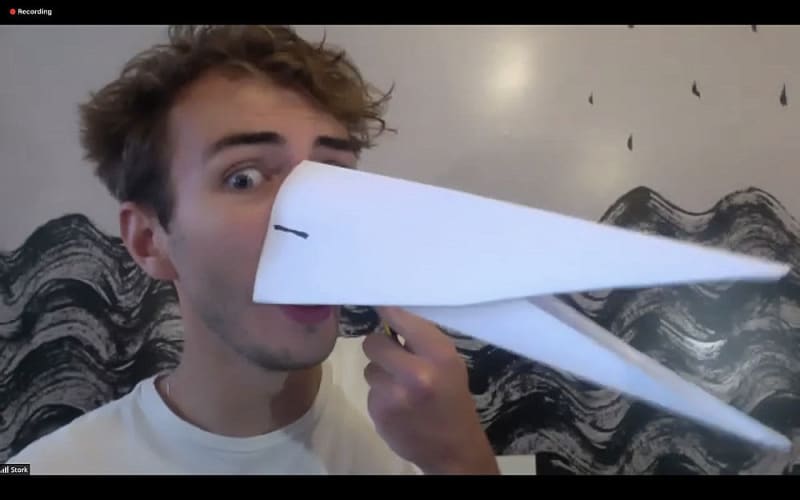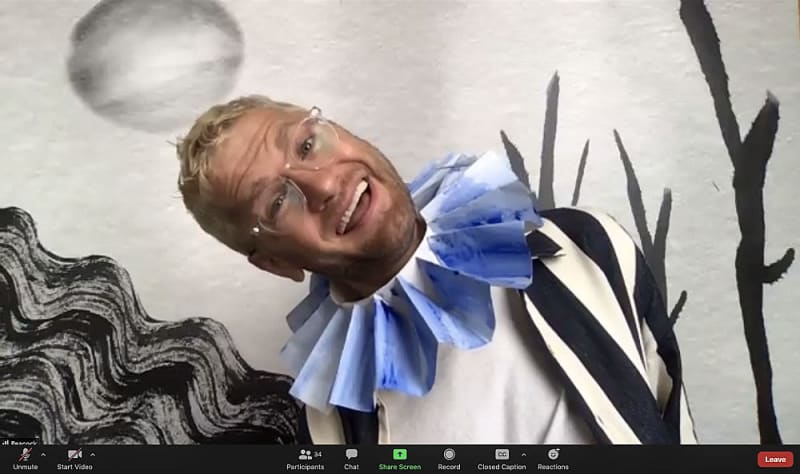 Specially written for Zoom performance, this is a piece of animated storytelling aimed at primary aged children. It presents a brand new tale of the proud Peacock and shy Peahen and what happens when it starts to rain and rain and all the animals are invited to make their way to Noah's Ark.
It is an interactive entertainment in which the young audience is invited to join the actors by dressing up, face painting or wearing masks to play the animals and to help with all the sound effects of wind and rain and rushing river and forest noises and the calls of all the animals.
The animals are friendly and sociable but when they try to converse with Peacock he doesn't answer. He's only interested in showing off his fine feathers and talking about how beautiful he is. Peahen, on the other hand, is full of questions—but she's to shy to ask them.
So Peacock ignores the call that goes out to the animals to come to the Ark "two by two". He would rather parade his plumage on the hilltop.
Stork comes to tell them they ought to go and offers to escort Peahen but she won't leave without Peacock.
Even when the rain starts coming through the roof of their roost and rising around their feet, he refuses to leave and Peahen has to make her way alone through the forest and down the valley to the Big Blue River to reach the plain where Noah's red Ark is waiting. And then, among the jostle of animals pushing to get into the boarding queue, she finds it is only one pair of each of them that will be allowed aboard.
There are frogs and rabbits and ducks whom Peahen makes friends with, and all the audience animals to meet each other too, but what is going to happen to Peacock?
Peahen and Peacock aren't used to flying but they still can and this story has its traditional happy ending for everyone to celebrate with their own rainbow, though the animals' forty days cooped up on the Ark may feel familiar.
The videos on the Nottingham Playhouse web site list the things you can find around the house to make the necessary noises and even supply animals masks to download and colour in if you need help to get ready for your part in the play. Then you are ready to join Kyle Soller's Peacock, Danusia Samal's Peahen, Bradley Foster's Stork, Patricia Davenport's Frog and all the other animals and Noah's son Seth who checks them in as they board the Ark.
Under writer Jeff James's direction, the cast keep it light and lively, moving easily from narration to their animal personalities and guiding the audience into making all the sound effects. There is added fun in seeing all the other youngsters joining from home in their animal get-ups and facing Seth as he asks them who they are before he lets them get on board.
Allowing time for joining the meeting and an introduction, the performance lasts around one hour but not too long for its audience who clearly enjoy it—not just the target youngsters but the adults with them too. There are only a few performances—it ends on Sunday and you have to book in, so you'll have to be quick to catch it and since it is live you can't stream it later. But if you can't make it by then, tell the Playhouse. Demand they put on another live run.
Reviewer: Howard Loxton