Noël Coward's Christmas Spirits
Nick Hutchinson
St James Theatre Productions Ltd
St James Studio
–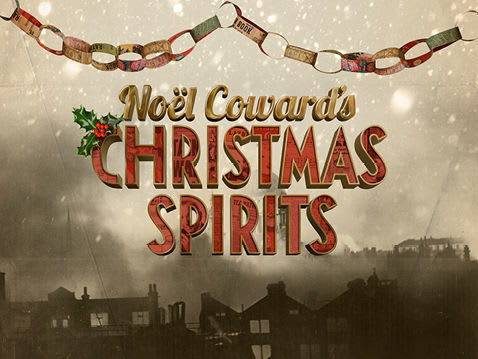 The dreary backdrop of a smouldering London skyline in the midst of the blitz and the sound of bombs crashing on near-by properties isn't your typical start to a night of promised Christmas merriment.
Noël Coward's Christmas Spirits is certainly an alternative to the cheesy, z-list celebrity soaked productions full of jazz hands and innuendo rolled out at this time of year in theatres up and down the land.
Writer and director Nick Hutchinson has pulled together an interesting mix of dialogue, characters and songs, some familiar and appropriate, whilst others less so, which address the Christmas theme mixed amongst a host a memorable favourites from "Have Yourself a Merry Little Christmas" to "I'm Dreaming of a White Christmas".
Some of Coward's own diaries and writings are used sparingly and cleverly alongside characters and parts of his play Blithe Spirit as a source of inspiration and encouragement, designed to help Stefan Bednarczyk snap out of being a miserable sod at this festive time.
Hutchinson's mish mash of characters and Christmas songs, mainly from Coward's and Irving Berlin's repertoire of festive classics, is risky and at times mind-boggling. Despite some moments of utter confusion, the attempt to create something that epitomises Coward's spirit during a difficult time when the country's at war should be commended.
Bednarczyk captivates the audience with a series of side-splittingly funny tongue twisters belted out from behind the grand piano, his opening gambit "Don't Put Your Daughter on the Stage" probably getting the biggest laugh, but it's closely followed by a very cheeky and personal Coward favourite "Don't Lets be Beastly to the Germans". As the master of the house, he also manages to knit the scenes and dreams that take took place within the confines of his plush Belgravia apartment together seamlessly.
There's a constant tinge of sadness and heartache lingering in the background for most of the play, which is emotionally and poignantly brought to the fore by some of the more tender moments including Charlotte Wakefield singing "I'm Sending a Letter to Santa Claus" and an ensemble piece of "Keep the Home Fires Burning".
The troops on the front line are never far from the hearts and minds of those back home in this warm nostalgic piece and yet there's still room for a generous helping of laughter and comedy, mostly provided by the endearing Issy Van Randwyck as a positively batty, yet elegant eccentric.
St James Studio offers a cosy and intimate venue and, despite having to share my table in the front row with another group, it's difficult to imagine a better space tucked deep within the bowels of London for this story of warmth and true British endeavour.
Reviewer: Thomas Magill