Noises Off
Michael Frayn
Theatre Royal Bath Productions in association with Birmingham Rep
Grand Theatre, Blackpool
–

Listing details and ticket info...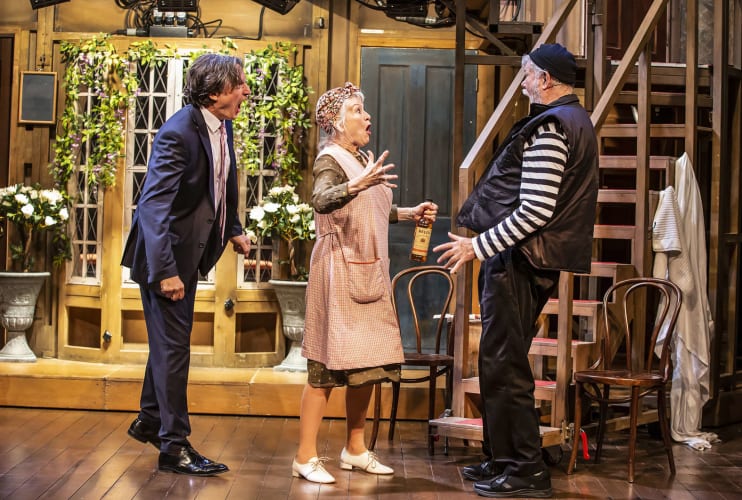 What goes on backstage doesn't stay backstage in this most riotous—and most British—of stage comedies.
Michael Frayn's inside-out farce may be a little over 40 years old but shows no signs of slowing down in its ability to conjure up a compendium of British comedy.
Frayn came up with the idea watching one of his earlier comedies from the wings and deciding what went on behind the scenes was more amusing than what was happening front of house.
So act by act, he shows us the final rehearsal night of an eight-door farce, where tantrums and trysts among the cast are brewing; followed by the same production glimpsed backstage some weeks later, when open warfare breaks out; and finally the last night of complete anarchy, where the curtain comes down—well almost—in Stockton on Tees.
Since Noises Off premièred in 1982, it's been followed by any number of 'Plays That Went Wrong' and other theatrical spin-offs. But beware imitations, this is the one that gives you more laughs for your lucre. It's also affectionately loyal to the tropes that kept Brian Rix, and his Whitehall farces, in work for so many years.
Trousers are dropped; a young ingenue similarly disrobed; and any sense of order quickly becomes chaos. But Frayn also delivers theatrical stereotypes like Dotty Otley (Liza Goddard) the typecast charlady; Selsdon Mowbray (Matthew Kelly) the faded Shakespearean star become old soak; Garry LeJeune (Dan Fredenburgh) one-time pin-up; Brooke Ashton (Lisa Ambalavanar) the debutante cheesecake; Frederick Fellowes (Simon Coates) all-round journeyman actor; and Belinda Blair (Lucy Robinson) a gossipy grand dame. Herding them all is director Lloyd Dallas (Simon Shepherd) "who read English at Cambridge". He's generally assisted by stage crew / understudies Poppy (Nikhita Lesler) and Tim (Daniel Rainford).
Special mention to Garry / Dan for a physical performance that comes close to a knockout, earning him a round of applause; and to the actual stage crew who 'flip' the set design back to front faster than any politician could.
Under Lindsay Posner's actual direction, it's all a tried and trusted treat.
Reviewer: David Upton