Noises Off
Michael Frayn
Northern Stage, Nottingham Playhouse, Nuffield Theatre Southampton
Northern Stage
–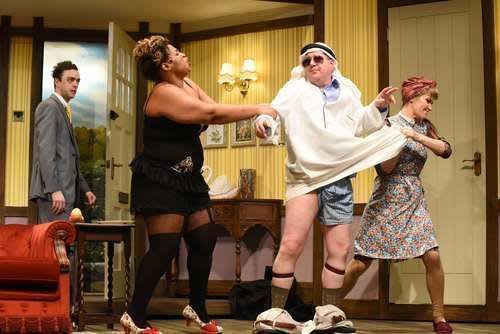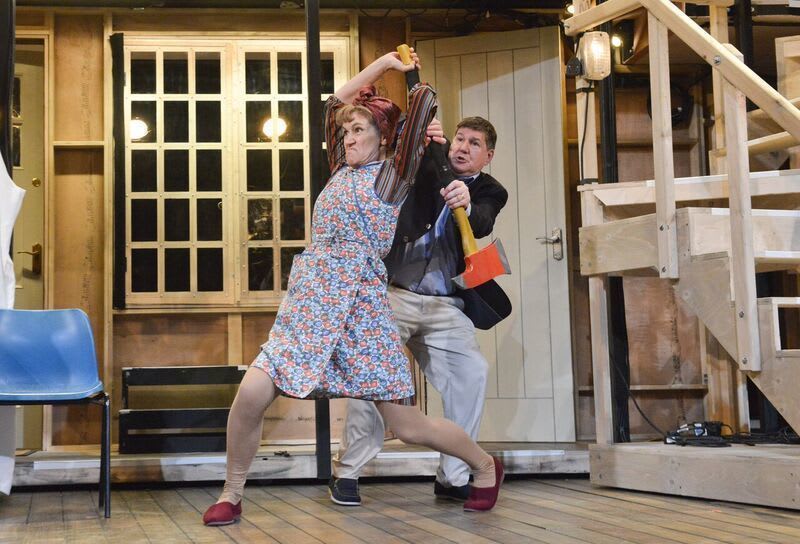 Michael Frayn's riotous romp has been filling theatres for more than a third of a century and with some justification has been called the funniest farce ever written.
Only an extreme miserabilist could fail to constantly laugh out loud at the disasters both on stage and behind it befalling the hapless travelling theatre company as they perform their appallingly clichéd piece Nothing On.
In the play-within-a-play, Frayn takes an affectionate side-swipe at a whole formulaic school of post-war British comedy, but, that social commentary apart, we are here strictly for the laughs.
Which come in torrents. Technically, Noises Off is one of the most sophisticated pieces of drama imaginable, requiring enormous timing, skill and talent, some scenes choreographed with all the madcap discipline of a frenetic silent movie.
The middle act, as we observe the catastrophes unfold backstage, is performed as high-speed mime while we can hear the play's words from other side of the set.
These are cartoon characters galumphing their way through personal and dramatic disasters such as lovers' trysts, backstage alcohol, missing lines, mis-timed entrances and lost contact lenses.
The play's secret is that it appeals both to luvvies, who watch it all with a knowing grin, but also non-luvvies, who feel a delicious sense of the voyeur to see revealed to them the chaos behind a public performance.
It is a play everyone should see and Blanche McIntyre's production rarely fails to disappoint. The Newcastle public needed a good laugh too, the football team having just been relegated from the Premier League, an event in these parts almost ranking in significance with a nuclear disaster.
The cast of nine hurtle their way through the three acts with Orlando Wells as the play's director Lloyd especially catching the eye. His is the best written part, a neat mixture of world-weary clever observations, sarcasm and bitter irony belying the sanitised image of theatre directors as interviewed on arts programmes.
But, although structurally and technically this is high sophistication, intellectually the piece has little to say, which makes it a strange choice for the subsidised theatre. A more obvious venue would be up to road in Newcastle's Theatre Royal.
Plus which, three companies combine for this touring production, Newcastle's Northern Stage, Nottingham Playhouse and Southampton's Nuffield Theatre. In these embattled times, companies often have to combine to ensure they can create pioneering theatre, but here we have one of the safest box-office bets imaginable and maybe someone somewhere should be asking about policy.
Northern Stage often has my sympathies. Under its original name of The University Theatre, its image suffered, often thought of as housing a load of amateurish students. It was also built behind rather in front of a large car park, somewhat removing it from Newcastle's general public.
It became Newcastle Playhouse, partly shook off that student image, changed the name again to Northern Stage but then suffered the indignity of seeing a giant new university block built on that same car park, hiding the theatre from public view so now the building ironically is invisible to everyone except students. This is a hard burden for any public cultural establishment to bear.
Reviewer: Peter Mortimer