Noises Off
Michael Frayn
Octagon Theatre Bolton
Octagon Theatre, Bolton
–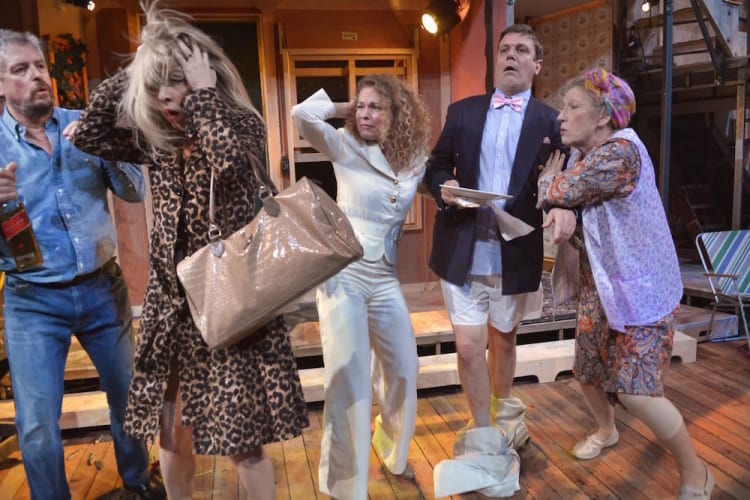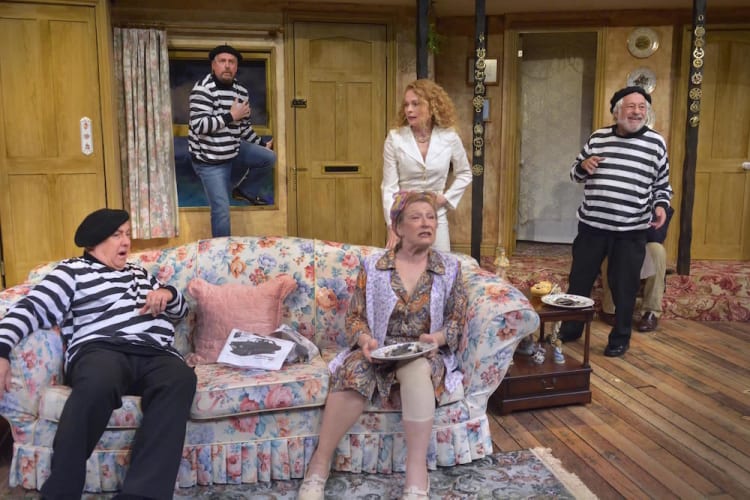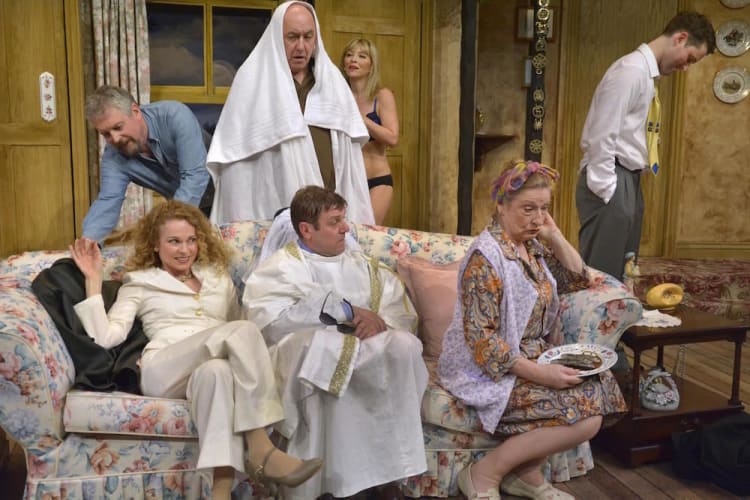 David Thacker ends his six year tenure as artistic director of the Octagon not with a play in his specialist area of American drama but with one of the greatest British farces ever written.
Farces are known for their complex plots, but Frayn doubles this complexity with a farce within a farce. Frayn's play is about a touring theatre company putting on an old-fashioned bedroom farce called Nothing On, with all the usual elements of lots of doors, people in their underwear, furtive liaisons and misplaced props.
The same sorts of things that happen in the play are happening between the cast and crew at the same time, as the three acts take us from the very late night dress rehearsal to a troubled performance mid-run and finally to the last night when everything has come to a head and the backstage atmosphere is far from friendly.
Thacker has assembled a very good cast for his farewell show. Rob Edwards is the smooth, weary director Lloyd Dallas who is having secret affairs with both his young star Brooke Ashton (Paula Jennings) and his efficient assistant stage manager Poppy Norton-Taylor (Jessica Baglow).
Charlotte Cornwell is Dotty Otley, the old retainer actress playing the housekeeper who has money in the show but can never remember what to do with her props—and she is having an affair with young actor Garry Lejeune, which turns sour later in the run.
Colin Connor is the fragile actor Frederick Fellowes, with Barbara Drennan as Belinda Blair, his on-stage wife, trying to act as peacemaker of the company. Kenneth Alan Taylor is deaf old sot Selsdon Mowbray and James Quinn is put-upon company stage manager Timothy Allgood.
One of the challenges of this play is that the first and third acts show the stage from the front while the second act shows us the view from backstage, so the whole set must be turned around twice. It's fascinating to watch the stage crew split Ruari Murchison's huge set into three and manoeuvre it in such a tight space, but the two lengthy intervals make it a three-hour evening, with nearly a third of it spent in the bar.
A farce usually starts each act slowly and builds up to a frantic climax, but here the first, much longer act is fairly laid-back throughout, whereas the others stay frantic for quite a long time, which can make them rather wearing when you are basically watching the same scene played three different ways.
But this experienced cast knows how to put across this brilliantly-written piece, so while the attention may wander sometimes or there may occasionally be too much across this wide stage to take in everything, there's plenty here that is very funny indeed.
Reviewer: David Chadderton