Noises Off
Michael Frayn
Presented by ATG, from the National Theatre production
Theatre Royal, Newcastle, and touring
(2008)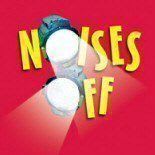 There are those - and I would count myself among them - who would argue that Michael Frayn's 1982 farce is the funniest play written in the twentieth century. It was certainly well received when first produced, winning both the Evening Standard and Olivier Awards for best comedy and, a year later, was Tony-nominated for Best Play. Indeed, the "Butcher of Broadway", Frank Rich said it "is, was, and probably always will be the funniest play written in my lifetime."
For those who don't know, it is a play in three acts which shows a touring company performing the play Nothing On. In act 1 we see the dress rehearsal of act 1 of Nothing On, in act 2 the same act from backstage as the play tours, and in act 3 we again see the performance from the audience point of view, at the last stop on the tour in Stockton-on-Tees. Each actor plays two parts: a member of the touring company and the part they play in Nothing On, either as actor, stage crew or director. Love affairs, personal conflicts, alcohol dependency all play a part in creating mayhem on and off stage, to hilarious effect.
Noises Off is a play which needs impeccable technique, spot-on timing and huge amounts of energy from its actors: without them it could fall very flat.
This cast - Ben Allen, Colin Baker, Sophie Bould, Jonathan Coy, Richard Hope, Ben Hull, Laura Matthews, Liza Sadovy and Maggie Steed - really do deliver. The action never falters, moving at breakneck pace - indeed, at times it seems almost literally so, as when Ben Hull as Garry Lejeune plunges downstairs, crashes throughthe bannisters and ends up spreadeagled on the floor of the stage. Hull, in fact, proves himself the master of the pratfall throughout.
The cast slip easily from their actor persona into their play-within-the-play character and back again, sometimes in a few seconds and the audience are never in any doubt about which they are at any moment.
It's quite a long production, running at three and a quarter hours (including interval) on the night I saw it, but it seemed very much shorter than that.
Reviewer: Peter Lathan