Norma
Vincenzo Bellini, libretto by Felice Romani
Met Opera on Demand
Metropolitan Opera House, New York
From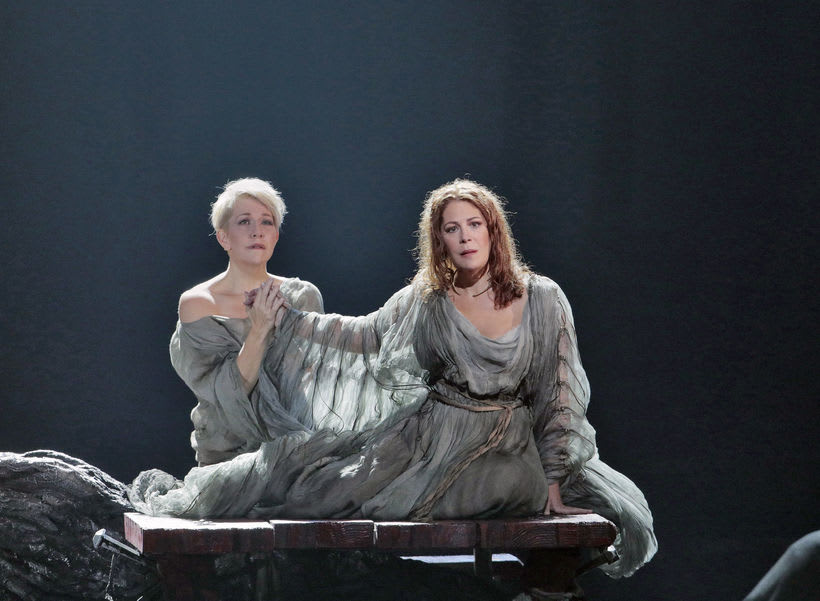 Vincenzo Bellini's Norma, which premièred in Milan in1831, represents the peak of the bel canto era. It doesn't come round that often because it is difficult to cast. It has the reputation of being the most difficult opera in the repertoire. "Opera," said Bellini, "must make people weep, shudder and die."
Norma is one of the most demanding roles, vocally, emotionally and physically. Very few sopranos are up to it. She has to be priestess and woman, noble and human, serene and angry. The role was written for and created by Giuditta Pasta, the greatest singer actress of the day.
The most famous aria, "Casta Diva", the hymn to the Moon goddess, a prayer for peace, one of the high spots of the score, is phenomenally difficult to sing and calls for a dramatic soprano of amazing flexibility. It was Maria Callas's performance which was a major turning point for the opera in the 20th century. Callas brought Bellini many new admirers.
This performance online has a great cast. Sondra Radvanovsky is Norma, Joyce DiDonato is Adalgisa, Joseph Calleja is Pollione and Matthew Rose is Oroveso. The production is directed by David McVicar and conducted by Carlo Rizzi and it was seen at The Met in New York in 2017.
The story is set in Gaul during the Roman occupation circa 50BC. Norma, a Druid High Priestess, has ignored her vows of chastity and been having sex with the enemy, Pollini, the Roman Pro-consul.
Pollini does not come of the story well. He's not a nice guy and causes a lot of grief to two women when he falls in love with Adgilas, a virgin priestess, and wants to ditch Norma and take Adgilas to Rome with him. When Norma finds out, she determines to take revenge and make him suffer as she has suffered. She even considers doing a Medea and killing their children to spite him.
However, when Adgilas learns of Norma's love for him and that he has fathered two children, she doesn't want to have anything more to do with him. Her devotion to Norma is very touching and Sondra Radvanovsky and Joyce DiDonato have not one but two great duets together.
I had forgotten just how much dramatic tension there is in the opera and how emotionally involving it is. Bellini's ability to unite melody with intimate passion is much in evidence. Radvanovsky and Joseph Calleja have two great arias in the final act.
There are a number of ways of tapping into this opera and others at will. The Met Opera on Demand service offers annual ($149.99) and monthly ($14.99) subscriptions as well as a one-off payment ($4.99) for those who have limited time or only want to watch the occasional opera.
Reviewer: Robert Tanitch