North North North
New International Encounter
New International Encounter
North Wall Arts Centre, Oxford
–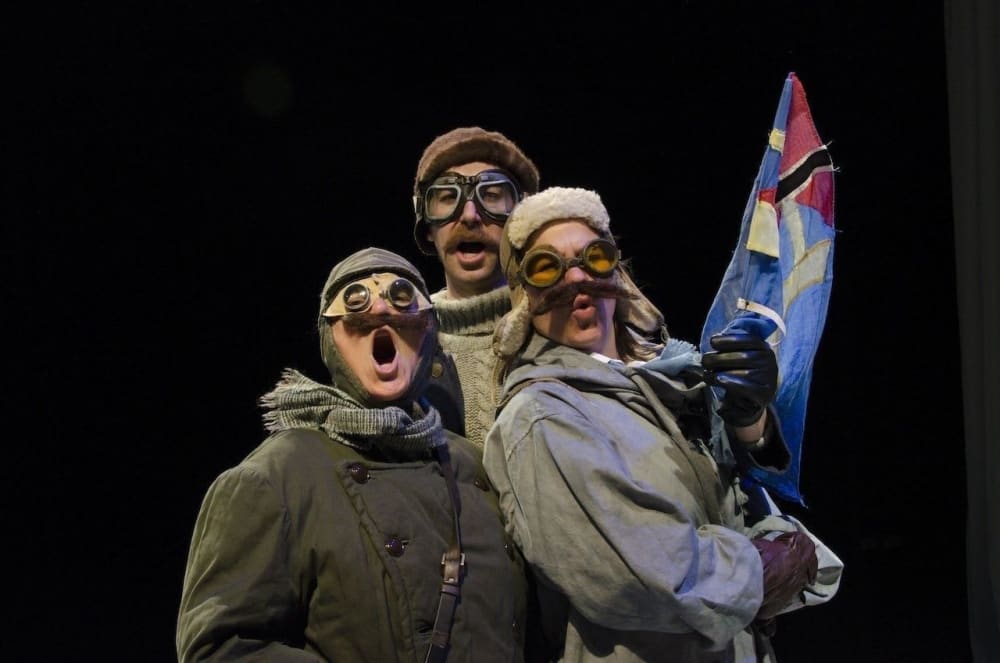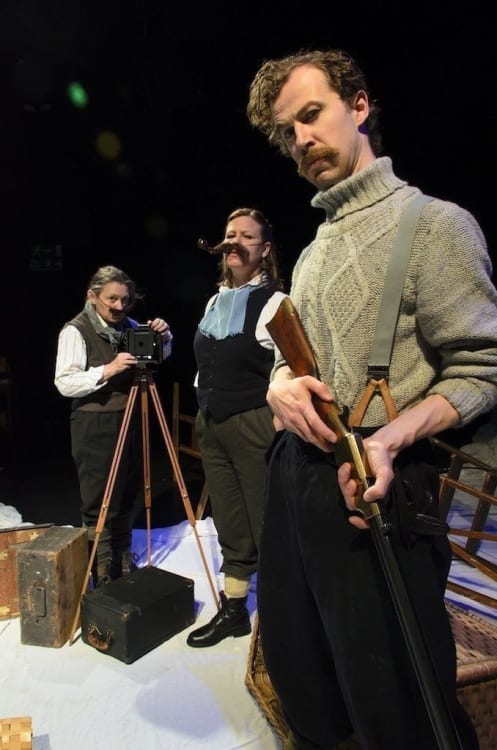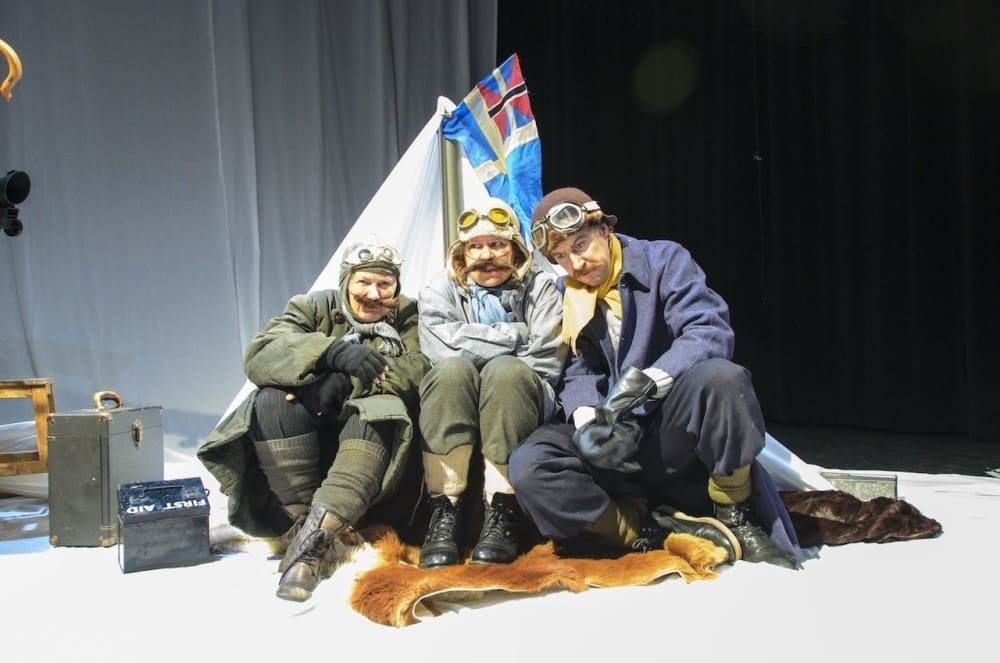 The award- winning New International Encounter (NIE) is a multilingual company using actors, designers and directors from many European countries.
it opened its tour of North North North at the delightful North Wall Arts Centre in Oxford, a captivating play full of courage, determination and man's battle against the elements.
We are greeted by three cordial actors, Martin Bonger, Margrit Szlavik and Elisabet Topp, playing the guitar, accordion and double bass and welcoming us with cups of coffee and cakes.
The set, designed by Bicat and Rigby, consists of two large, rickety ladders, maps on easels, an assortment of tin trunks and wicker baskets and other detritus with projected images on the backcloth all of which are effectively used in telling the story.
It is 1897 and these three Swedish intrepid explorers are headed for the North Pole in a huge, custom-built hydrogen filled balloon. This was the cutting edge of technology of its time.
Their admirable resolve is to explore new territory, to map the hitherto undiscovered Arctic and to plant the Swedish flag at the pole.
The three performers are consummate storytellers. They cleverly use humour to counterpoint the tensions and enormity of this polar exploration Two of them don false moustaches as they play Nils Strindberg and Knut Fraenkel with Salomon August Andree as their leader.
This courageous adventure story is told with gung- ho enthusiasm and much repartee when the actors come out of character to comment to the audience on the acting or the occasional deliberate overloud sound effects.
At 2:30PM on 11 July, the anchor lines were cut and they floated up into the cold Arctic air. Imaginatively using the top of the ladders as the balloon basket, they convinced the audience that they were soaring on high.
At first all goes well but the wind takes them in the wrong direction and as the weather conditions badly deteriorate they are forced to crash land and abandon their balloon.
The only choice left to them is to walk to the sea, pulling three sleds made up from the debris of their balloon basket. It is a brave and courageous decision but the long torturous journey is horrendous.
To keep their spirits up, they sing patriotic songs and do exercises to try to keep warm but Fraenkel suffers from frostbite and is in danger of losing his foot.
Food supplies are lost on an ice-flow and the winter weather of snow, ice and biting winds becomes unbearable. They end up stranded on the White Island with fatal results.
Assuredly and inventively directed by Alex Byrne, this tale of daring and bravery both educated and entertained.
Reviewer: Robin Strapp