Northanger Abbey
Jane Austen, adapted by Tim Luscombe
Theatre Royal Bury St Edmunds
Derby Theatre
–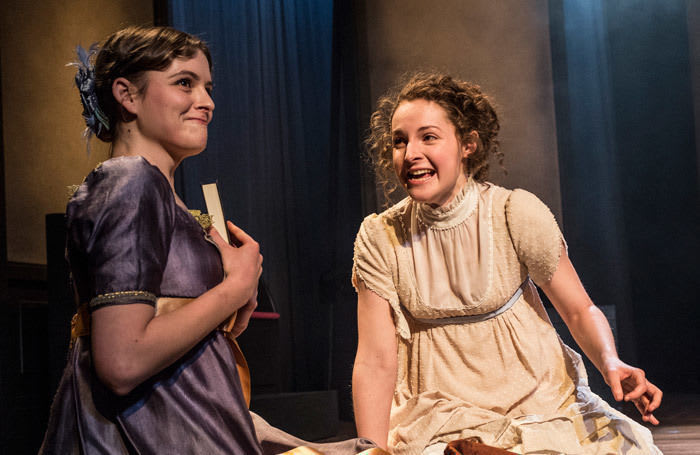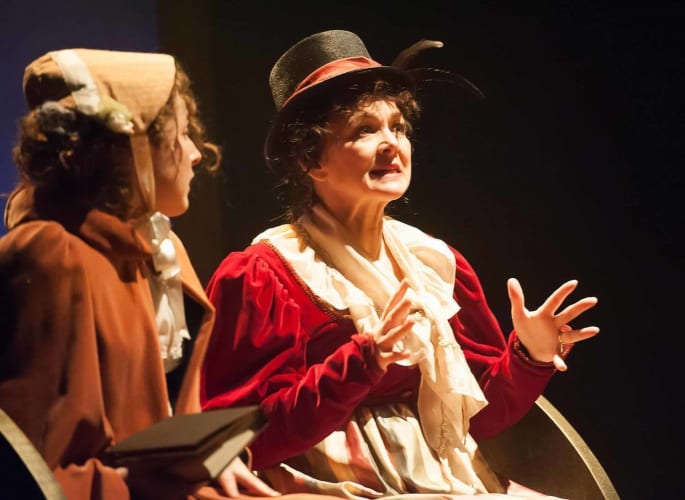 Tim Luscombe can safely be described as an expert on Jane Austen. He has adapted three of her works, Persuasion and Mansfield Park as well as Northanger Abbey which was the first of her novels to be accepted for publication.
Some people feel Northanger Abbey does not have the depth nor the complex characters of her later novels. But Karen Simpson who directs this fourth professional production of the play feels that Luscombe's adaptation is "playful and enables us to have real theatrical fun".
That seemed to be in the minds of the audience at Derby Theatre on the night I saw Northanger Abbey. They found laughter in everything from the deliberately exaggerated mannerisms of some of the characters to the appearance of one of the men in a dress.
The plot features 17-year-old Catherine Morland who lives in a rural area called Fullerton. She has never been further than Salisbury. Her aunt Mrs Allen takes her to Bath where she encounters the social scene she is denied at home.
Catherine is a fan of Gothic novels, particularly Ann Radcliffe's The Mysteries of Udolpho. She sees friends and acquaintances as gothic villains and victims. In the second half, Catherine accepts an invitation from the Tilney family to stay at their home, Northanger Abbey, where she suspects that General Tilney murdered his wife.
Catherine's fantastical visualisations are brought to life by the cast of eight through melodramatic interludes, delightfully over-the-top creations which give more opportunities for hilarity.
Although Simpson directs an enthusiastic cast with conviction, Northanger Abbey appears long and occasionally wordy. There are times during its almost two-and-a-half hour duration that the pace understandably flags because there is little on-stage action.
The production with its exploration of social etiquette and polite behaviour is in some ways aimed at women theatregoers. That is evident early on when Mrs Allen proclaims to Catherine "there's nothing I like more than looking at muslin". But there is plenty to commend Northanger Abbey.
It is an ensemble piece although there are captivating performances from Eva Feiler as Catherine, who has to learn to read people as well as she reads books, and Annabelle Terry as her scheming, manipulative friend Isabella.
Hilary Tones returns to the stage where she played Shirley Valentine in 2004—the theatre was then called Derby Playhouse—as Mrs Allen, a delightful portrayal of Catherine's ineffectual chaperone who is obsessed with fashion and self-importance.
The men do not have as much chance to shine although Harry Livingstone gives a creditable performance as Catherine's romantic interest, clergyman Henry Tilney and Jonathan Hansler adds gravitas as the stern, rude and almost menacing General Tilney.
The production is played out on Dawn Allsopp's basic yet well-functioning set. It is expertly and atmospherically lit by Mark Dymock and there is stirring, fitting music from Matt Bugg although at times it sounds a little too overpowering.
Two hundred years after the death of Jane Austen, there is still a great appetite for her work. From the reaction of the audience at Derby Theatre, this adaptation of Northanger Abbey will increase her reputation for being a brilliant writer and an excellent storyteller.
Reviewer: Steve Orme