Not a Moment too Soon
Trevor Carlson
Barbican Silk Street
–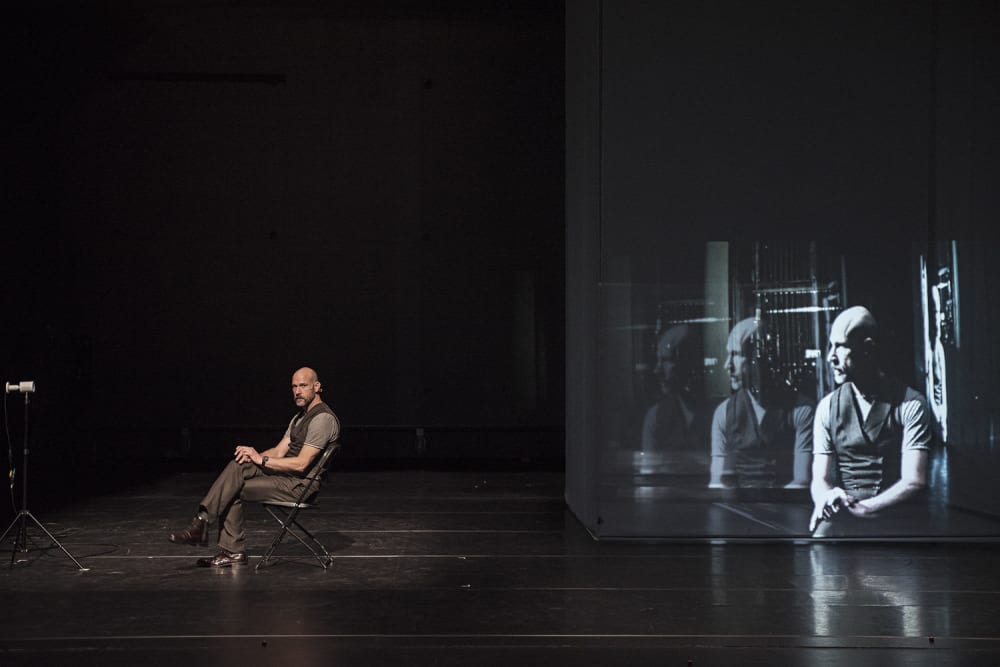 Not a Moment too Soon features Trevor Carlson, confidante, close friend and producer to Merce Cunningham, in an interpretation of his life intertwined with the last 13 years of Cunningham's life. Layered with unseen footage of the choreographer, this performance shares personal stories through the narration of Carlson, backed by music and movement.
The story goes that a couple of decades ago in a dressing room in Australia, Cunningham stared at his reflection while filming himself on his own camcorder, a device he used daily. Interested in the fleeting nature of things, he apparently said: "not a moment too soon". Using this recording as a starting point for the performance, Carlson meshes the footage brilliantly into a personal journey that holds us captive.
The footage is beautiful. Close-ups of hands, faces, body parts that crumble and disintegrate like falling snow with Carlson weaving in and around the projections through giant cubes on the stage. Sometimes he appears at the centre, only to evaporate back into thin air, guided by his own narration.
Carlson's stories guide the audience through recollections of such precious moments he spent with Cunningham. He renders the choreographer in flesh and blood in a way that somehow feels more connecting than yet another portrayal acknowledging his legendary status and ground-breaking choreography.
Tonight offers a tender account of the man in relationship to Carlson. It's the information wrapped in such little details, those snippets that can only be gleaned by spending such invested time together, that makes for a deeply sensitive portrayal. Such oddities of information feel more powerful than any of the grander gestures of the evening.
There's the time when Carlson leafs through Spartacus, the gay directory, to find out where to go clubbing in Berlin. Turns out he overslept the next day and Cunningham refused to speak to him until Carlson wooed him with a cup of tea at the airport. There's also real humour in the piece. "They promised to pass me at Julliard if I promised not to come back the following year," he laughs, explaining his journey to becoming a producer, not a dancer. There's also Carlson's own background history to absorb into the picture: the journey from leaving his hometown Florida and water-skiing instructor parents to arriving in New York to study dance.
Carlson describes a scene at his apartment one New Year's Eve: Cunningham wanted to dance; he said it was funny because he could only move forward, so "I could only move backwards"—it's with great pathos that the iconic dance figure ends his days in a wheelchair. Such stories literally flow out of Carlson, proving time and time again complete devotion and love for Cunningham.
The props help to keep the audience engaged. We are all given dice upon arrival to explain some choreographic techniques. I think for a minute when Carlson gives us instructions that we are all going to make a piece together and collaborate, but this is a solo show. Then there's the pair of shoes, the glorious 6-inch platforms that make Carlson look like a giant swan preening around the stage, as indeed he did in his drag queen days he tells us.
Carlson's piece is dreamlike and he shifts gracefully between monologue and dance, precisely executing Cunningham's form in the smallest of gestures. Yet it's the intimacy captured through storytelling that makes for a beautiful and humane performance, one that radiates honesty and love between the two men.
Reviewer: Rachel Nouchi