Not About Heroes
Stephen MacDonald
Flying Bridge Theatre and Seabright Productions in association with Pleasance
Pleasance Dome
–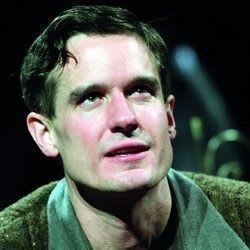 The two men stand on opposite sides of a stage cluttered with broken pieces of wood, but still holding a freshly made bed and a cluttered writing desk.
The stark yet complex staging goes ways to creating a visual metaphor showing the fractured and fragmented mindstate of the two men, and the distance between them, and the tangible solidities of their existence.
Told in flashback by a lamenting Siegfried Sassoon, wracked with self-imposed guilt about his perceived failure to convince his friend and fellow poet Wilfred Owen not to return to the front lines of the Great War.
The story of the two men is told with patience and humour, as well as no small measure of sympathy for their traumas and the bitter experiences of war which have left them broken and damaged.
From their first awkward and defensive meetings in Craiglockhart Mental Hospital, to their final partings and the decidely un-officerlike hug they steal in a moment of desperate acknowledgment of each's importance to other, the performance is as flawless as the script.
Daniel Llewellyn-William's sardonically cynical Sassoon contrasts brilliantly with the raw enthusiastic energy and excitement of Iestyn Arwel's Owen: shellshocked but never cowed from his clear admiration of his idol.
It's well known that MacDonald's play is a classic and leads the audience on a journey, told in part through poetry and letter, with raw pieces of each poet's work read or spoken at moments which, under Tim Baker's fine direction, wrung sorrow, despair and many many tears from the packed auditorium.
The play may well be named Not About Heroes, but in a telling of such a tale of ardent humanity, crying and lashing out against brutality through poetry, a hundred years from the moments it depicts; I have seen heroes.
Reviewer: Graeme Strachan