Not About Heroes
Stephen MacDonald
Feelgood Theatre Productions
Trafalgar Studios
–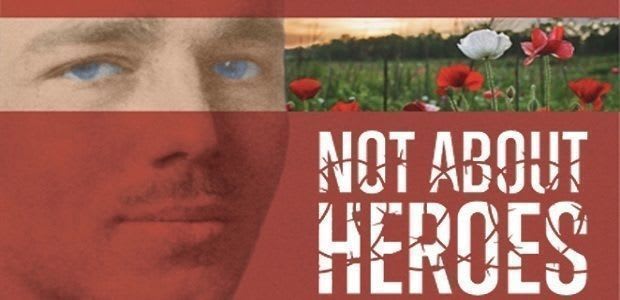 Understated in delivery but powerful in content, Not About Heroes eloquently tells the true story of the friendship between soldier poets Wilfred Owen and Siegfried Sassoon. The two-hander is a mixture of imagined conversations, letters and of course their emotive and timeless poetry.
The play moves from their first meeting at Craiglockhart through to Owen's death but does not move in a linear fashion. Clear distinction is made, however, between the post-war Sassoon looking back at their friendship and the scenes in the 'present' which make Owen's journey from wide eyed fan to poet on equal footing so moving and poignant.
Stephen MacDonald's script balances the descriptions of the horror of the front with a surprising amount of humour, chiefly through descriptions of other poets and Sassoon's sarcasm and rudeness.
The result therefore is an engaging and thought-provoking evening rather than an entirely dark and depressing one. Through elegant delivery and unfussy direction, the characterisation and words are the centrepiece of the production.
Alasdair Craig's Sassoon is off-hand and gruff, intellectualising the war coldly but with deep emotions bubbling beneath the surface. By contrast, Simon Jenkins's Owen is eager and gentle, initially struggling to articulate his experiences but eventually growing in confidence both as a poet and person.
The interaction between them is touching and the script really allows the audience to witness the development of their evolving friendship and see the impact Sassoon makes on Owen's short career.
The timing of this revival is apt, yet the theme of war is unfortunately always pertinent. The play speaks of far more than just World War One, however; it tells of true friendship through adversity and the sheer power of words and poetry.
Compact, emotional and touching Not About Heroes is a fitting tribute to those who articulated the experiences of many.
Reviewer: Amy Yorston