Not About Heroes
Stephen MacDonald
Flying Bridge Theatre Company and Seabright Productions
Wilton's Music Hall
–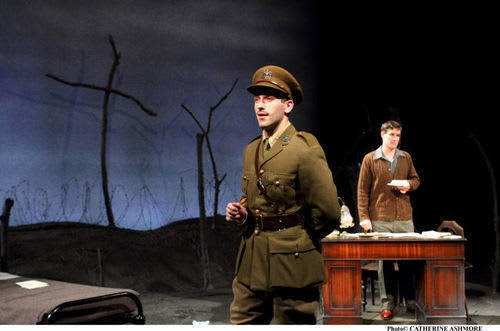 After a national tour, this revival of Stephen MacDonald's play about poets Siegfried Sassoon and Wilfred Owen reaches London to coincide with the centenary of Owen's death, killed during the crossing of the Sambre-Oise Canal on 4 November 1918.
The play draws directly on the men's letters (especially Owen's very revealing ones to his mother) and their poems with conversations imagined by the dramatist and the whole framed by Sassoon looking back on their relationship in direct address to the audience. He is in civvies with a cardigan, Owen in uniform buckled and belted.
It is a very carefully fashioned script that I've seen work effectively as an intimate sharing. This presentation gives the poems a more declamatory treatment, emphasised by Wilton's multi-level platform for which the staging has necessarily been adapted from that in the photographs. It is impassioned and moving but draws attention to the play's construction and makes one aware of performance. It suggests a side to Sassoon that may not be intended, though it could be a valid aspect of the way Daniel Llewelyn Williams presents him with his upper class vowels and a certain false modesty, a man who wants to appear relaxed but is quite buttoned up and consciously presents himself.
Though letters may be written from the front, London, Scarborough or Shropshire, the men's meetings all take place in Edinburgh where they are both patients in the Craiglockhart War Hospital where Sassoon has been sent after writing a letter to his CO protesting against the continuance of the war, which was read out in the Commons; rather than court-martial him, they wanted to question his sanity.
Owen was in awe of the older poet, but that's not the reason for the stammer and trembling hands that Owain Gwynn gives him so effectively. He's a real case of PTSD (they then called it shell-shock) after spending two days unconscious in a shell hole beside a dead comrade, while at this time Sassoon seems to have handled his horrors more easily.
The relationship between the two poets is delicately captured in the conversations between them, but, though there is talk of deep feeling for others, only Owen blurts out just how he cares for Sassoon. Those who know the literary world of the time will recognize in references to Robert Ross, Edward Marsh and others Sassoon's links with a homosexual coterie to whom he gives Owen an introduction, but, though a programme note refers to their sexuality, it is not something this play investigates.
Not About Heroes shows one poet mentoring another, both men horrified by the conduct of the war and what is happening at the Front, both feeling they need to return there to validate their protest. That compulsion serves to emphasise the waste of life that we now commemorate and the reality of what these men put into their poetry.
"My subject is War, and the pity of War. The Poetry is in the pity," wrote Owen in the introduction he drafted should his poems be published. They told the truth and this play is about truth too. In that same introduction he says, "This book is not about heroes. English Poetry is not yet fit to speak of them." That's where this play gets its title, but their poems and this play truly are about heroes.
Reviewer: Howard Loxton