Not Dead Enough
Peter James, adapted by Paul McKenna
Joshua Andrews and Peter James in association with Paul Tyrer and Jamie Clark for TBO productions
New Victoria Theatre, Woking
–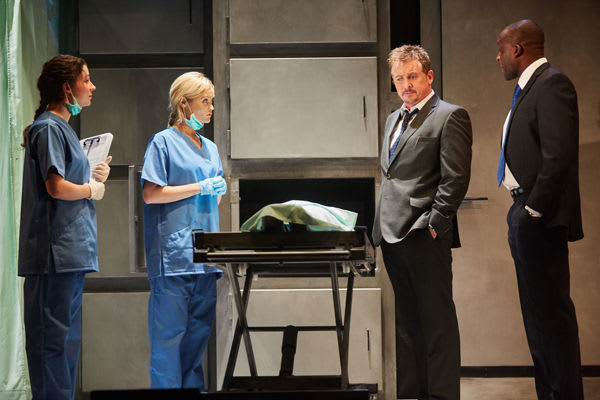 This being a murder mystery, we did expect a murder, but it is quite a shock to see one right before our eyes even before the curtains open. It certainly sets the scene and gets immediate attention.
Peter James's book has been greatly altered for the stage adaptation and, instead of the many and varied locations of the original, the story is now concentrated on just three with the mortuary taking pride of place, raised up and centre stage, totally appropriate as there are more murders to come and the victims all end up here.
It's a very realistic mortuary with the bodies being wheeled in and out of the fridges, the icy air clouding around them, and mortician's tools of the trade scattered about. A little humour is injected with one 'corpse' sitting up to everyone's horror—until the words "where the hell am I?" reveal this is not a ghost. Just a little relaxation in the tension and giving the audience a moment of laughter before back to 'reality'.
The story begins with the discovery that Brian Bishop's wife has been murdered at their house in Brighton, and in a horrifically kinky manner. His story, corroborated by reliable witnesses, is that he was sixty miles away in London at the time. Did he or did he not? It is up to Detective Roy Grace to solve the mystery and bring the killer to justice.
Shane Richie lives the role of Roy Grace exactly as I had imagined him to be: down-to-earth, thoughtful, sensible and determined to see justice done. He is also given to bursts of furious frustration when interrogating the man he believes is the killer and who steadfastly denies it all. The banter between him and his friend and colleague Glen Branson (Michael Quartey) is quick-witted and fun, but the play (under Ian Talbot's expert direction) is mostly an edge-of-the-seat experience with the audience fascinated and horrified in equal measure as the plot reveals more horrific mysteries.
Stephen Billington is Brian Bishop, a respectable member of society and of the local prestigious golf club, and his performance is spot-on, especially his resentful indignation at being accused of the murder, yet there is something about him which doesn't seem quite right. Billington manages to portray all facets of the character leaving the audience guessing from beginning to end.
Laura Whitmore as pathologist Cleo is the strongest and most self-assured of the women, her emotional journey as Grace's new love yet struggling to come to terms with his feelings for his long-lost wife being very well portrayed. Surely she can't be one of the victims!
James, having met and talked with many murderers during his research, is fascinated by the reasons which drive a seemingly ordinary person to the act of murder. His killer here has a reason, and a message, which he chillingly leaves with each victim.
This is his third book, written in 2007, the first two having already been staged and proved box office hits. Presumably there are many more to come—be prepared!
It is all very well staged and frighteningly realistic at times, but I have to say that, for my money I preferred the intricacies of the book—or perhaps it is better not to have read that first!
Peter James has stated that he now knows how to commit the perfect murder—I hope my review meets with his approval.
Reviewer: Sheila Connor