Not Dead Enough
Peter James
Joshua Andrews and Peter James in association with Paul Tyrer & Jamie Clark for TBO Productions
Theatre Royal Plymouth
–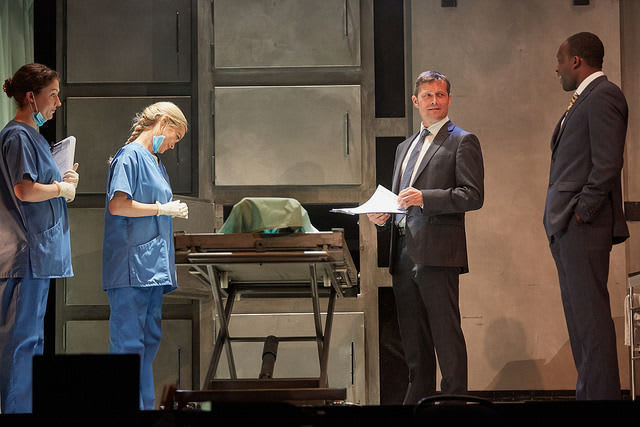 Oh dear.
Peter James's DS Roy Grace crime series (some 13 novels to date) has proved exceptionally popular and Not Dead Enough is Shaun McKenna (stage adaptor) and director Ian Talbot's third collaboration in bringing one of the books to the boards.
But, unfortunately, the transition just doesn't work. Instead of a slick, tension-building thriller, the result is a somewhat clunky '70s-esque preposterous whodunit and with far too much panto and posturing while comedic moments stall the pace rather than add light relief.
Populated with caricatures, Brighton is blighted by deaths galore, fishy findings, postmodern drill bit art and a plethora of gas masks, S&M and cryptic signature messages. The police are in a frenzy to stop a serial killer before that second 'fridge up runs out of room or Martin Hodgson's menace music is exhausted.
Multi-faceted philanthropist—and best friends with the commissioner of course—suitably sinister Brian Bishop (a somewhat regal and downbeat Corrie bad boy Stephen Billington) is looking the likely killer of his society wife but swears he was miles away at the time. Despite mounting evidence, he oddly seems to believe (and blinks sufficiently to convince) that he is innocent.
Michael Holt's split staging nicely facilitates action moving from mortuary to police station but there really is an awful lot of racing around to enter through the right door while intruders can seemingly circumvent carefully controlled (and occasionally malfunctioning) entrances.
Bill Ward comes fresh from the Emmerdale farmlands to play the haunted Grace. He is master of the striding about (without wellies) looking somewhat fierce and is believable with his new squeeze but the DS's maverick streak and brilliance just doesn't shine through as he bullies his suspects, strikes interesting poses, and, in true rebel style, eschews the obvious to grimace and follow true cop's gut instinct.
Presenter Laura Whitmore's professional theatre debut is a solid performance as love interest and autopsy technician Cleo Morey, battling to remain fragrant and matter-of-fact despite not-quite-dead-enough bodies, ghostly exes and kinky sex attire.
Gemma Atkins is lost-in-love Sophie whose alibi-giving overtures receive a frosty reception while Michael Quartey's Branson is a convenient vehicle for conveying bonhomie, hero-worship and some rather retro non-PC commentary around his Caribbean origins. Why?
In fact 'why' is perhaps what is taken away from the evening. No matter how capable actors may be, when given a creaky, predictable script, confined space and no time to develop characters, the uphill battle is just too great. A shame.
Reviewer: Karen Bussell