Not The End Of The World
Written by Charlotte Conquest, music Sonum Batra and lyrics David Francis
Youth Music Theatre UK
New Town Theatre
–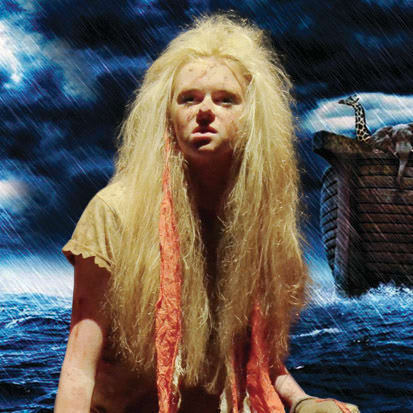 It is not often that you see such an impressive and stunning production as Youth Music UK's Not the End of the World at the Fringe.
What is more remarkable is this young energetic company of 40 youngsters aged 11 to 21 had only two weeks to complete the project and the result is awe-inspiring.
Based on the award-winning novel by Geraldine McCaughrean, it is adapted and inventively directed by Charlotte Conquest with a vibrant emotive score by Sonum Batra and lyrics by David Francis.
The plot retells the story of Noah and his family on the Arc during the flood, exploring the family's trials and tribulations as they remain incarcerated in their claustrophobic floating home with all the animals.
It is told through the eyes of Noah's lost daughter and is beautifully and imaginatively staged with an imposing, moveable set and atmospheric lighting and graphics. The soundscape perfectly captures the storms and constant rain. Below decks are simply but effectively created by the use of large wooden frames.
As you would expect from a company specialising in musical theatre, the singing is superb, particularly from the principals.
There is some striking choreography (Stuart Winter) and strong ensemble work with stunning images created by this disciplined and committed young cast.
There are powerful messages about family life. Jacob needs a wife but he's only 12 so whom should he marry? And what happens when an outsider is rescued from the flood and is hidden on board? Can there ever be harmony as Noah battles with his conviction that he's performing God's will?
This Scottish première demonstrates the immense talents of this company and is certainly one show that should be on your list of must sees.
Reviewer: Robin Strapp