Notes from Underground
Eric Bogosian
Trafalgar Studios 2
(2006)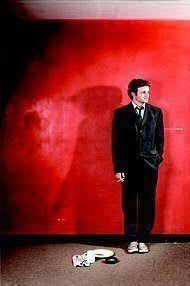 How do you fancy sharing 90 minutes with a charmless introvert, a New York psychopath suffering from a sniffly head cold?
I am not sure if the sniff belongs to the solo character in Eric Bogosian's one-man play, or to actor writer Will Adamsdale who has taken on the role after a recent triumph in his own Gogolesque The Receipt — a Fringe First winner at the 2006 Edinburgh Festival.
But the sniff is least of his problems.
The guy (shall we call him Eric?) sits and frets alone in his shabby room, surrounded by the detritus of an uneventful life. And although Eric speaks directly to us, the effect is like listening to a serial blogger reading out his disconnected daily thoughts from March 1st until somewhen in midsummer — I lost count of the datelines.
Partly it's about his appetite for Ritz cheese crackers — a stack of unopened cartons lie under his gatefold table alongside a 200 pack of Camel cigarettes, which he endlessly smokes without inhaling, as if trying to give up or not start in the first place.
But a greater passion is for acts of multi-masturbation while poring over pictures of models in fashion and soft-porn mags. Indeed at one nasty moment it looks as if he is about to flash his member to demonstrate.
At other times the stubble-chinned Eric moons about the CBS newscaster Dan Rather, with whom he has a phantom relationship, especially when chatting up girls.
He is also into self-harm having bought a carbon-steel cooking knife for the purpose and chopped through the veins on the back of his hands and feet, until being carted off to a clinic for bandaging and counselling.
The structure and title of the play are borrowed from Dostoevsky's introspective short story, but it lacks Fyodor's attention-grabbing Russian intensity. Half way through the show Bogosian's Eric seems to sense that his audience has switched off, launching into three rather more connected anecdotal narratives to overcome the problem.
One finds him in suit and tie, seated in a suburban back garden waiting for the owners to return, then abusing their nervy tolerance by taking a bath and cleaning his teeth with a borrowed toothbrush, while finishing off with a splash of cologne.
He also nearly makes it with a thirty-something woman he meets in an art gallery. But after lunching at her expense, and cheating his way into a swanky hotel bedroom, he inexplicably leaves her undressing and getting ready for sex while he beats an ignominious retreat.
It eventually emerges that the narrative trajectory is moving towards unspecified acts of child abduction and abuse, as he befriends a susceptible teacher and two of her small charges.
Shortly before the end of the performance he admits to dosing the kids with sleeping pills dissolved with fruit juice, and calling up their distraught parents to gloat.
But for what purpose remains an enigma; as indeed, finally, does everything else about this insubstantial performance piece. Why did they bother?
Reviewer: John Thaxter