Notes from the Underground
Adapted from Dostoyevsky's novel by Buzz Goodbody
Arcola Theatre
(2007)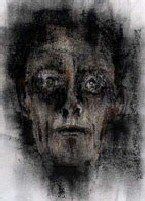 Time and timeless joined company on the wings of the tick-tock sounds of the unseen clock, which marks the 65 minutes of this gripping production.
The stage is set with two single beds with the innards of the mattresses visible despite being partly shrouded with dirty off-white sheets, which in turn blend comfortably with the Underground Man's ashen face and yellowing teeth, as well as his stained long-johns and vest.
Dostoyevsky's Underground Man (UM) is exquisitely portrayed by Dan Starkey.
The UM is a lucid yet awkward, self-deprecating individual who is also redolent of contradictions and self-contempt. He introduces himself at the outset as a sick, mean man who is 'morbidly superstitious'. He confesses that there is nothing attractive about him and that he finds his face positively stupid. That might be just the initial spark to ignite the fascination with the character.
He confesses that he is afraid to be seen and recognised, yet some of his acts are a simply a cri de coeur. His pathetic attempts to be kicked out of a tavern are staged so that he can feel noticed. He invests energy, time and thought into planning how and what needs to be done in order to challenge the burly six foot officer he encounters in the tavern. Years of planning lead to a devastating end result, with the officer failing to notice him. In the words of our hero, "I could've forgiven anything, including a beating, but that was too much - to be brushed aside without being noticed!"
UM's encounter with the prostitute Lisa, superbly acted by Cressida Trew, invokes something of Rodion Raskolnikov's attitude to Sonya in Dostoyevsky's Crime and Punishment. She is allowed to love him, but he is incapable of embracing her affection.
Our main mean protagonist has a servant whose name is Apollon. He is, we are informed by his master, "a renegade peasant. Nasty out of sheer stupidity. Moreover, there's always a bad smell about him". No-one would expect a servant to be better dressed or more fortuitously scented than his master.
In this production the young director Christopher Haydon astutely casts Nick Jesper, a 6' 5" fabulously funny actor, as Apollon. Dressed in a tail-coat, he seems comically out of place. His presence and encounter with the 5' 5" master introduces an element of surrealism into that reality. Jesper resorts to mime more often than speech and this relaxes the anxious atmosphere created by the troubled UM, transporting 'reality' into the realm of comic absurdity.
The UM gives voice to many of those marginalised and ignored by society. Haydon's production of Buzz Goodbody's adaptation of Dostoyevsky's novel is a triumph. It is unfortunate that Goodbody never lived to see this production.
Make your way to the Arcola before 3rd February. Don't miss it.
Reviewer: Rivka Jacobson