Not a Game for Boys
Simon Block
Library Theatre, Manchester
(2007)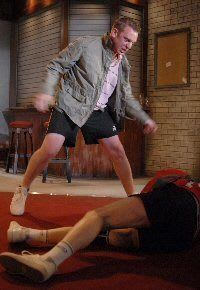 The Library Theatre reopens after its unscheduled break due to a fire with a short run of Simon Block's comedy set in the world of amateur table tennis Not A Game For Boys, directed by Simon Pittman who is currently on attachment to the Library from Birkbeck College University of London's MFA in theatre directing.
Eric, Oscar and Tony are taxi drivers who escape for one evening a week to play table tennis as a team in a local amateur league. Eric is the enthusiastic team captain who would rather die than be relegated to division two and who keeps getting calls from his wife whom he has left to look after his senile mother. Oscar has never married and lives alone, and seems to have been very much affected by having just attended the funeral of a fellow player who died alone and unliked by pretty much everyone. Tony is much younger than the others, and a casual affair in the back of his taxi is threatening to destroy his relationship. Tony has to choose between completing the crucial match and going home to rescue his relationship, but his colleagues have very different views on which he should choose.
As one or other of the three characters is playing for most of the time, the play is really a series of joined up duologues. The play is set in the closed bar of the table tennis club, where the three players sit around a pub table waiting for their turn to play or watch the games by looking out towards the audience. Simon Rorstrand's design is absolutely authentic for this type of place, from the light-coloured brick and dark wood walls to the red carpet that stops just short of the bar and the suspended false ceiling, even down to the remains of an old Christmas decoration hanging from the ceiling (a wonderful little touch).
Stephen Mackenna plays the calm, cynical Oscar, who constantly has friendly digs at Eric and has no time for Tony's 'lads mag' justification of his behaviour, even though, as he constantly reminds everyone, "I never interfere". Glyn Grain is very good as Eric, the captain, for whom table tennis night is sacred, despite it being constantly violated by calls from the home and family he seems keen to escape from. Paul Thornley, though, is absolutely superb as Tony with a wonderful sense of comedy that merges seamlessly into more serious moments; there are never any lapses of pace when he is onstage.
The production is, for the most part, nicely paced and often very funny indeed, but there are a few slow moments that detract from the comedy; these may well tighten up as the run of the play proceeds. There are a couple of minor annoyances: Eric never speaks when he answers his mobile 'phone, which seems completely unnatural and impractical, and the fluorescent lights are not of the fadeable variety, which produces a very annoying flashing and flickering each time there is a general fade up or down of the lighting.
However these are minor points, and there is some great comedy writing in this play that is performed very well and had pockets of the audience on opening night laughing raucously, loudly and often. This is popular comedy done well that doesn't talk down to its audiences or short-change them with something simplistic and under-written.
If you are offended by swearing, don't go to see this play as there is a lot of it—although it is used perfectly naturally and there is no attempt to shock—but if you don't, you are depriving yourself of a very funny and entertaining night at the theatre.
Running until 28th April
Reviewer: David Chadderton