Nothing But the Truth
John Kani
The Lowry, Salford
(2007)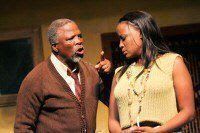 South African actor John Kani, who co-wrote with Athol Fugard and Winston Ntshona and starred in two of the most important South African plays of the Apartheid era—Sizwe Banzi Is Dead and The Island—brings his solo-written play Nothing But The Truth to the UK, which he again stars in.
The play is set firmly in the post-Apartheid era at the time of the remarkable Truth and Reconciliation Commission hearings. Despite being an intimate and touching portrayal of family troubles, it has profound resonances in South African politics and society and world attitudes towards South Africa.
Sipho Makhaya's brother Themba has died. Sipho hasn't seen him for twenty years since he became an exile from South Africa and there are suggestions that they parted on very bad terms, but despite his daughter Thando's desperate pleas for the truth about her family, he will never tell her what the quarrel was with his brother nor why her mother left them when she was a child. When the play starts, Sipho is waiting for his brother's body to arrive from England with Themba's daughter Mandisa so he can arrange a family funeral, but he gets quite a shock when it arrives. Mandisa's arrival in the family home brings out conflicts within the family, between English and South African attitudes towards freedom and the family and between the need for truth and reconciliation and punishment, both in the family and in the country as a whole.
Whether you watch it as a story of family conflict or as political theatre, this is a riveting piece of theatre that intricately weaves the personal together with the political to bring both of them to a far deeper and more profound level. There is no sense of preaching for any side of any of the various conflicts to be superior; Thando's passionate defence of her desire to please her father and go along with his wishes conflicts with her wish to have some of the independence that Mandisa has, just as the need for truth and reconciliation without going back to the violent retribution of the past conflicts with a desire for revenge on those that perpetrated acts of violence on close family and friends.
The performances are judged just right by the three actors. Kani shows Sipho as a mild man but with bottled up resentment and anger, and although he demands obedience from those who stay in his house, he is far from a tyrant. The two girls portray perfectly both the similarities and the differences between two girls brought up in Apartheid South African and in a middle class London home without Mandisa (Rosie Motene) ever becoming too brash or Thando (Motshabi Tyelele) too naive. The set of a cutaway house, from Sarah Roberts, has plenty of nice little details that give the right flavour and there are some nice subtleties in the costumes that emphasise the differences between the characters and their aspirations.
This is a fascinating piece of theatre that can be intense but also has a thread of great humour running through it. For instance, at a point when all of the skeletons have been dragged, kicking and screaming, out of the closet and everyone is stunned and upset, Thando tells her father, "I don't know what to say, what to do." He replies, simply but with a hint of sarcasm, "That's the trouble with freedom." And as if to emphasise that the play's message is one of hope and reconciliation, the lights go down finally to the sound of Sipho's deep, throaty—if slightly ambiguous—laugh.
Philip Fisher reviewed the UK premiere at the Hampstead Theatre and Peter Lathan reviewed this touring version at Northern Stage, Newcastle.
Touring to Birmingham Rep (23rd - 26th May), Leicester's Peepul centre (29th May - 2nd June), Nottingham Playhouse (6th - 9th June) and the Arts Theatre, Cambridge (12th - 16th June).
Reviewer: David Chadderton