Noughts and Crosses
Malorie Blackman, adapted by Sabrina Mahfouz
Pilot Theatre, Belgrade Theatre Coventry, Derby Theatre, Mercury Theatre Colchester and York Theatre Royal
Derby Theatre
–

Listing details and ticket info...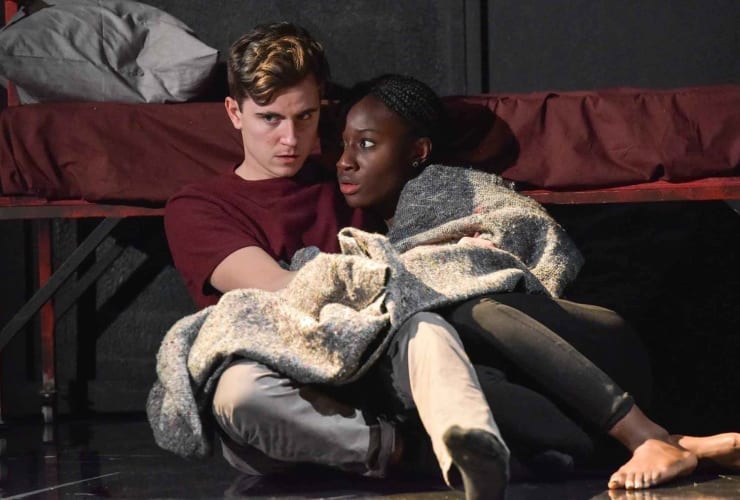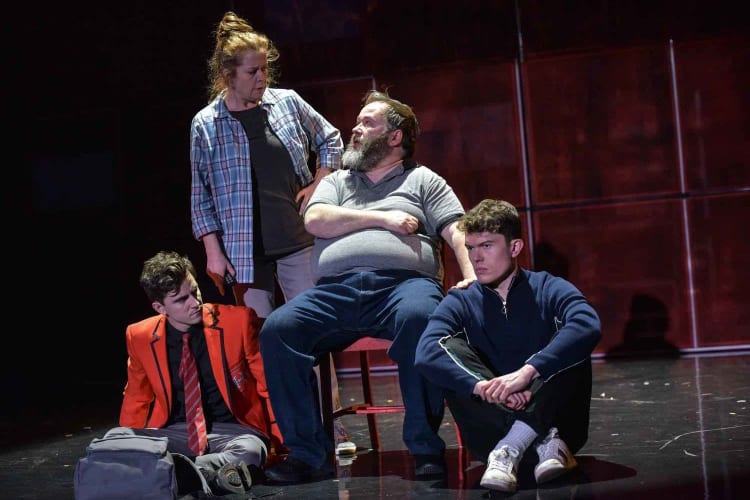 Malorie Blackman had reportedly been writing for 12 years before she was ready to take on an issue people had been urging her to tackle: racism. The result is Noughts and Crosses, her young adult novel published in 2001, which is now taking on new life as a stage show.
Noughts and Crosses is set in a world that looks very similar to our own apart from one main difference: it is ruled by the Crosses, black people who are a superior race to the white Noughts who are at the lower end of society.
In a nod to Shakespeare's Romeo and Juliet, Persphone Hadley, known as Sephy, who is a Cross and the daughter of a wealthy politician, has a secret relationship with Callum McGregor, a Nought.
This leads to all sorts of complications as the pair try to challenge the system which has capital punishment as the ultimate deterrent. Oppression, racial attacks, mental health and supremacy are some of the subjects covered in a piece of theatre that started life more than two years ago.
From Sabrina Mahfouz's pacy adaptation to designer Simon Kenny's clever set and Esther Richardson's sensitive direction, Noughts and Crosses is a stunning production that has the power to shock.
This is achieved not only through the terrorist group Liberation Militia, a violent organisation that sees itself at war with the Crosses, but also through the Crosses' determination to stamp out insurrection at all costs.
The bare set and harsh lighting add to a sense of foreboding and inevitability in a divided yet different world.
The cast is led by Billy Harris and Heather Agyepong as Callum and Sephy. Harris, in his first major role since graduating from Bristol Old Vic Theatre School, shows confidence and composure as the youngster who is unable to decide whether to put love before the fight for equality.
His sudden transformation into a revolutionary, convinced to join the militia by his brutal brother—on the run after blowing up a shopping centre—is a bit difficult to believe. But otherwise Harris gives a commendable performance, particularly when he realises the depth of Sephy's love for him.
Agyepong is totally convincing as the young woman with a mind of her own who rails against her father's insistence on segregation. It is a tender, touching depiction of Sephy who prefers to fight her battles with love rather than prejudice.
The rest of the cast, Doreene Blackstock, Jack Condon, Daniel Copeland, Lisa Howard, Chris Jack and Kimisha Lewis, play multiple roles, with Jack especially catching the eye as highly ambitious politician Kamal Hadley.
The audience on the night I saw Noughts and Crosses was predominately teenaged schoolchildren who yelled when Sephy and Callum kissed and could hardly contain themselves at the sexual references. Perhaps that was relief from the profundity of a production that grabs your attention from the start and does not let go.
Noughts and Crosses is a dynamic, powerful, compelling show whatever your age. It will no doubt be a big hit as it tours the country. Its legacy may be that it will encourage a younger generation to return to the theatre on a regular basis.
Reviewer: Steve Orme