Noughts & Crosses
Malorie Blackman, adapted by Sabrina Mahfouz
Pilot Theatre
The Lowry, Salford
–

Listing details and ticket info...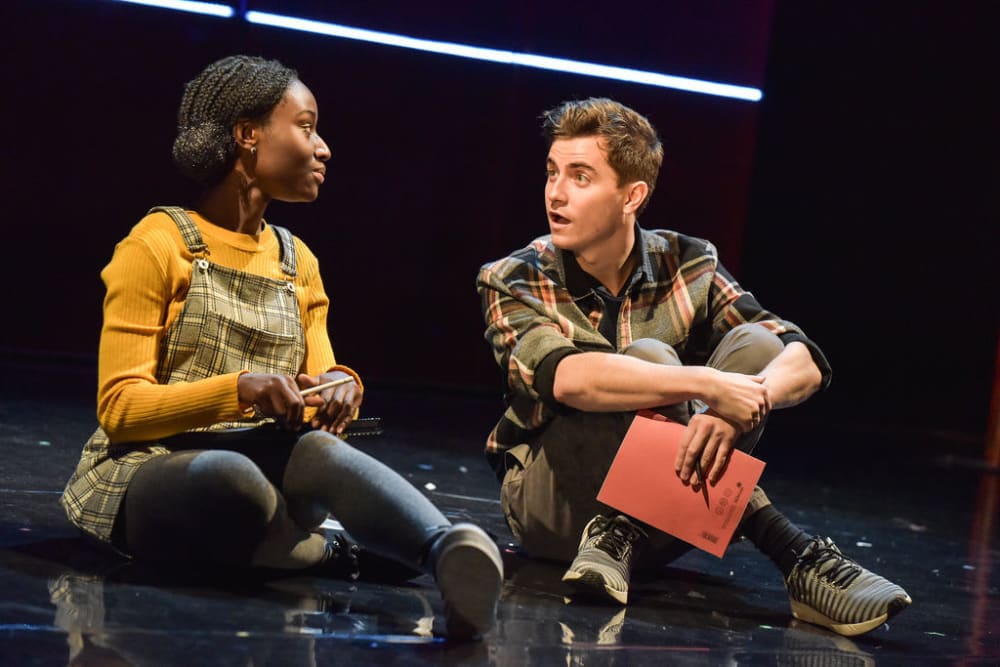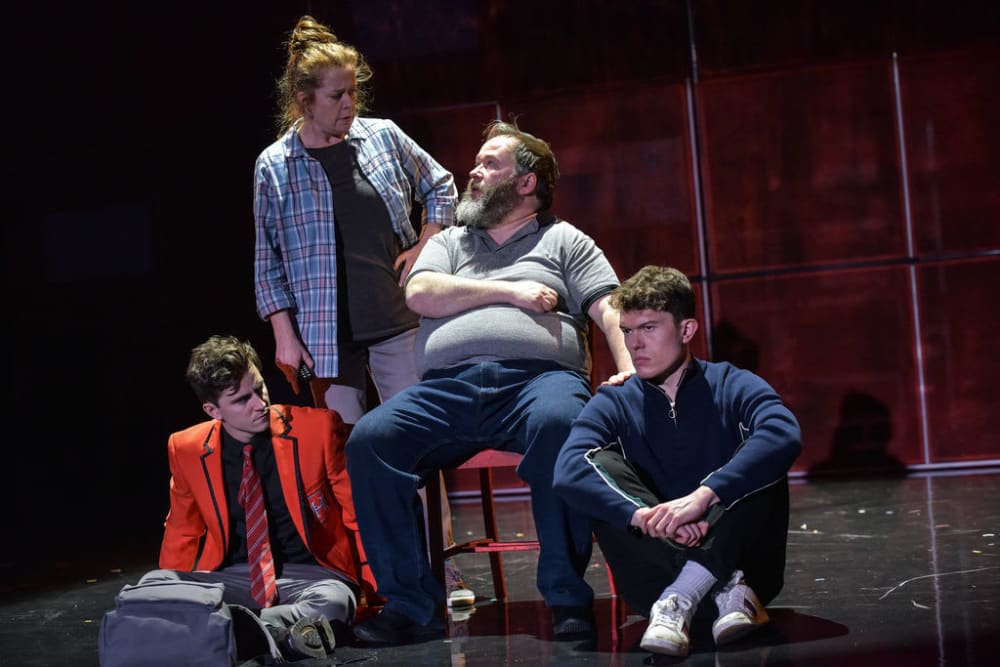 Nearly twenty years after it was first published, this second stage adaptation of Malorie Blackman's most famous novel for young people (the first was produced by the RSC in 2008), was still able to hold a theatre packed full of school parties almost silent for two and a half hours in a weekday matinée—except for during the sexy bits, obviously (I wish I could have said the same about the adults around me).
The story is set in a parallel world in which the Crosses are the dominant class of society and the Noughts are excluded from positions of power and even from the segregated school system. While skin colour is only occasionally hinted at in the book—one of the most telling moments being when a Nought explains her brown plaster away by saying it is impossible to get plasters to match her skin colour—this can only ever be explicit on stage, so it is obviously using role-reversal to show the rich and powerful blacks dominating the downtrodden whites, some of whom are resorting to terrorism in order to be heard.
Within this world, Sephy (Heather Agyepong), the youngest daughter of prominent Cross government minister Kamal (Chris Jack), and Nought Callum (Billy Harris) have grown up together since Callum's mum Meggie (Lisa Howard) kept house for Sephy's mum Jasmine (Doreen Blackstock), but there was a falling out and Meggie lost her job while Jasmine turned to the bottle. Despite the antagonism between the families, Sephy and Callum continue as friends, then become more than friends, despite both sides of society being against such a union.
When Callum becomes one of a handful of academically gifted Noughts to be admitted to Sephy's Cross school, she naïvely thinks that she can help him to be accepted and to change ingrained opinions about Noughts, but there are protests at the school, incidents of severe bullying and an escalation of violence by the banned Liberation Militia, to which Callum's volatile brother Jude (Jack Condon) is attracted, but the penalty for membership is public hanging. While Callum's dad Ryan (Daniel Copeland) seems like the most laid-back and conciliatory person you could meet, there are suggestions that he is also becoming swayed by the arguments for harsher action.
There is a huge amount of plot set-up in the first act of the play which is twice as long as the second act, a disparity not helped by a few scenes towards the interval that are lacking in pace. There are a few physical theatre touches, some of which work better than others, but the most impressive one of these is the explosion in the café, which also uses sound very effectively. The second half, apart from being shorter, also runs much more smoothly as it is a single train of events based around the kidnap of Sephy by the LM three years after the second act ends, with a few events reordered slightly from the book to keep all the important action in the current time. The pace and the tension is kept up well until the shocking ending.
The book is obviously an allegory of racism in society, switched in colour and exaggerated to an extreme, but there are many other complex issues woven into the plot and the sophistication of the debate around standing up for the oppressed, the lengths one should go to fight for a just cause and more is very impressive, all of which translates to this stage production. The novel also reads not like a moral lesson but as an exciting adventure story, a real page-turner, which is partly reproduced on stage but I think parts of the first half could be smoother, pacier—and shorter.
Director Esther Richardson has assembled a strong cast (completed by Kimisha Lewis as Sephy's sister Minerva), all switching between roles seamlessly, for this touring production of a piece that is not only worthy and important in its message and still relevant for young people but also, at its best, thrilling and shocking theatre for all ages.
Reviewer: David Chadderton