Now and Then
Written by Ronnie Larsen, music and lyrics by Dennis Manning
Above the Stag
Above the Stag Theatre (Main House)
–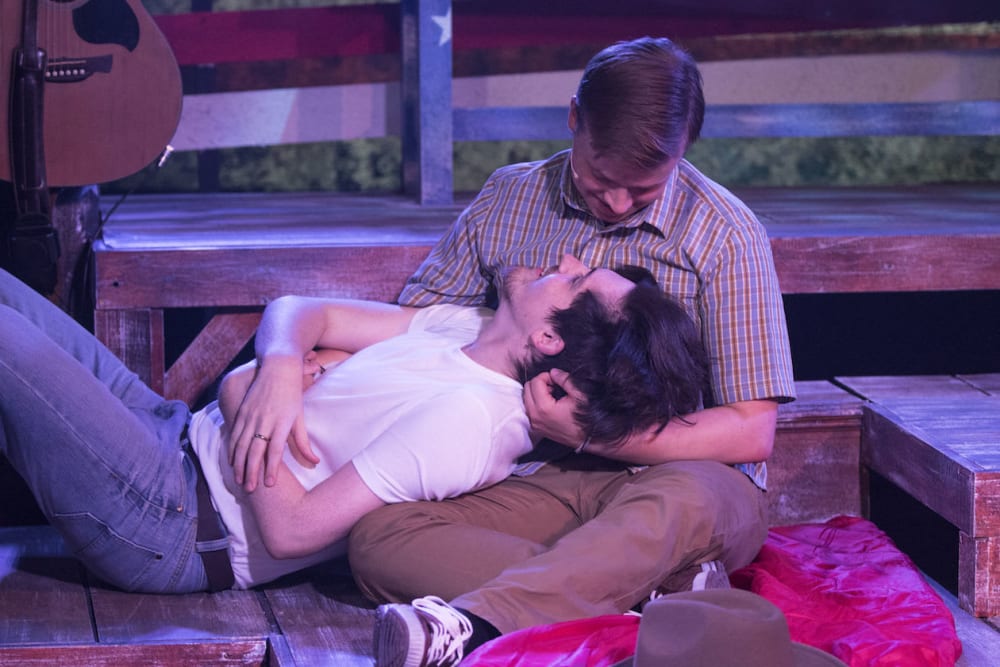 Country and western music isn't usually my thing but I loved this gentle Nashville-flavoured musical, which charts forty years of one gay relationship from initial attraction to final parting.
Three pairs of actors play Greg and Daniel at different ages: the romantic young lovers full of dreams for the future, the middle-aged couple when things haven't worked out quite as they hoped and as men in their sixties.
Designer David Shields provides a setting that's part of that dream: a mixture of western-style bar and ranch veranda, with telegraph poles, a star-spangled banner and video sunsets, though scenes may take place on college campus or in domestic locations. In a way, they are a montage of memories that begin with Richard Costello's older Daniel entering slowly and with gravitas on a stage full of smoke and shadows.
He pauses heavily before picking up his guitar, then the lights come up and young Greg, played by Freddie Woodyatt, enters, MC of his own campus open-mic night, to jokingly introduce a new face: Daniel from Texas, who immediately announces he isn't from Texas, he just likes the hat, and sings a song of his own composition "Solitary Man". Greg falls for the song, for the man and for the hat (especially the hat) and invites him back to his dorm where he is lucky enough to have a room of is own.
So begins the great romance with expectations of a rosy future where Greg will become a star comic and Daniel a platinum record singer-songwriter.
The story isn't told chronologically, time overlaps, characters at different ages even talk to each other. Taylor Rettke plays the Daniel who, despite multiple visits to Nashville, still hasn't had the right break and is drinking, relying on the support of Rhys Taylor's Greg who is running out of patience, while Richard Costello and Leo Andrew play the most mature Daniel and Greg, touchingly caring with a moving coda.
Now and Then isn't particularly original in content or form and in a couple of things seems anachronistic, but its songs are delightful and so heartfelt that what might otherwise seem cliché becomes a record of a relationship that many couples (gay or straight) will find they recognise as their own.
Harry Blumenau's direction handles the comedy with a light touch and avoids overdramatising the darker moments. He has assembled a cast with good voices (and the Daniels also accomplished guitarists) who bring a sincerity that lifts what could be a routine, rather sentimental drama into something much more.
Reviewer: Howard Loxton