Now That's What I Call Brexit
Laurence Peacock with music by Dominic Lo
Blowfish Theatre
Gilded Balloon Patter Hoose
–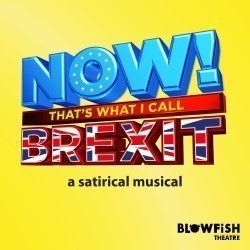 With all the political turmoil around Brexit, there had to be a show in Edinburgh that poked fun at the situation and Blowfish Theatre's musical Now That's What I Call Brexit lampoons the politicians with verve and glee.
It's a caustic hour of good old tongue-in-cheek humour with a healthy dose of searing satire as we meet the protagonists in the Brexit debacle.
The cast are excellent with some good impressions of Boris (James Ringer-Beck) and his nemesis, the controlling, squirmy Michael Gove (Polly Bycroft-Brown), who is determined to wipe out the badgers and will do anything to become prime minister.
Poor Theresa May, a great performance by Kyle Williams complete with the trademark necklace, is distraught at trying to bring her cabinet together and Jacob Rees-Mogg is portrayed in top hat and tails, determined to wipe out May and very nearly does.
Bring back David Cameron (Natasha Lanceley), whose ill-fated referendum started all of this, although he has deserted the ship and is more concerned with writing his memoirs.
Even Jeremy Corbyn (Laurence Peacock) suffers the Blowfish treatment in a 'grime' routine and the musical numbers (composer Dominic Lo) are very much parodies and the dance routines are comical.
There are hilarious references to Boris's vote to leave bus and to that handshake between May and Trump with reference to Lady Macbeth's speech "out, out damn spot."
It's all great entertainment and highly enjoyable.
Reviewer: Robin Strapp