Nuclear War / Buried / Graceland
Simon Stephens, David Spencer and Max Saunders-Singer
Boxless Theatre, Bag of Beard, Grindstone & Take Two Theatricals, in association with the Old Red Lion Theatre
Old Red Lion Theatre
–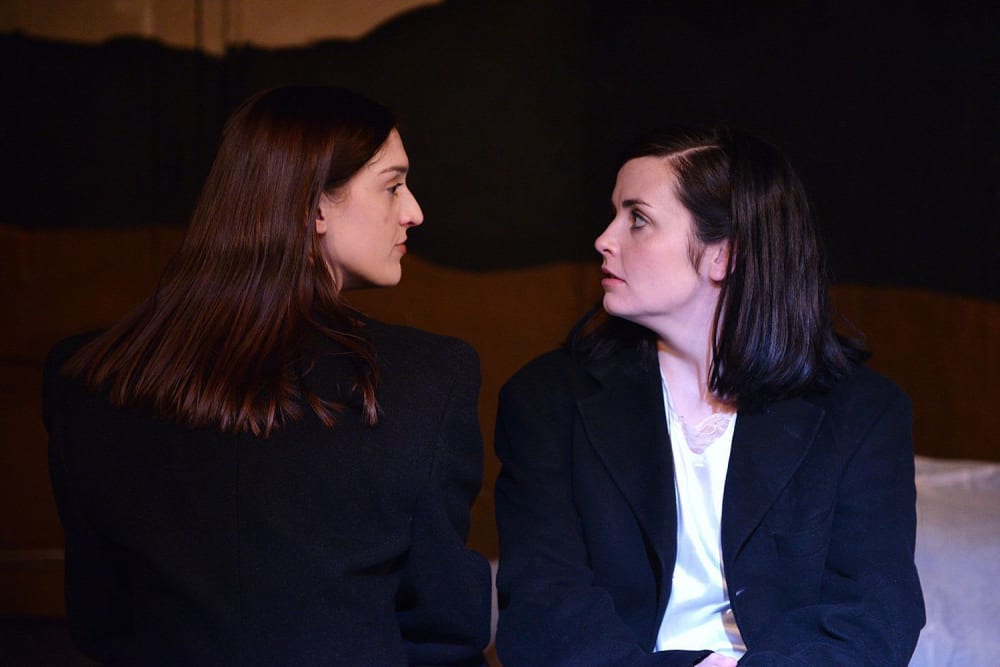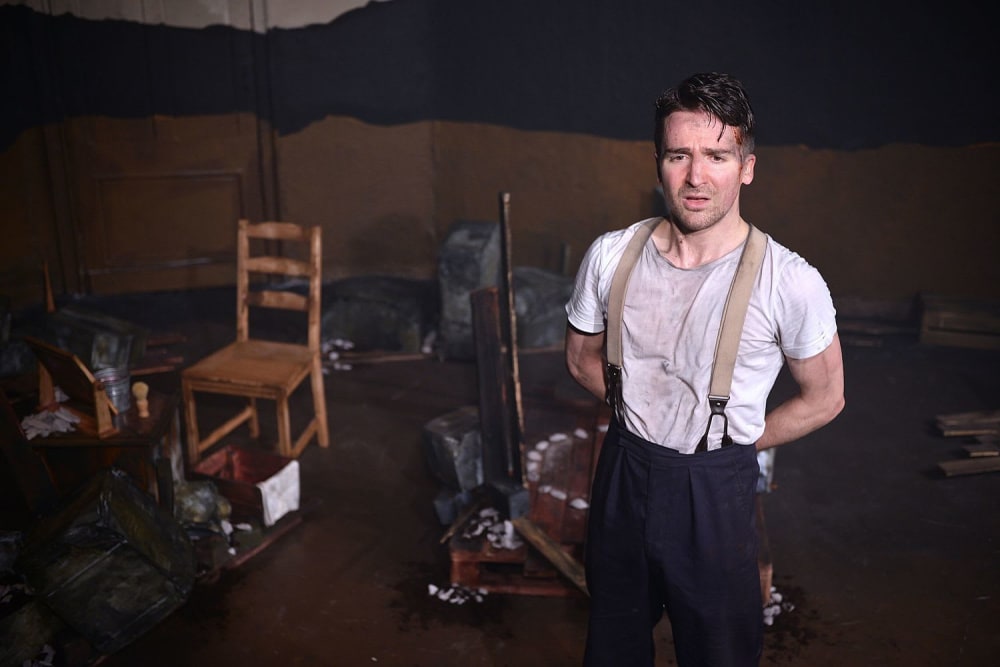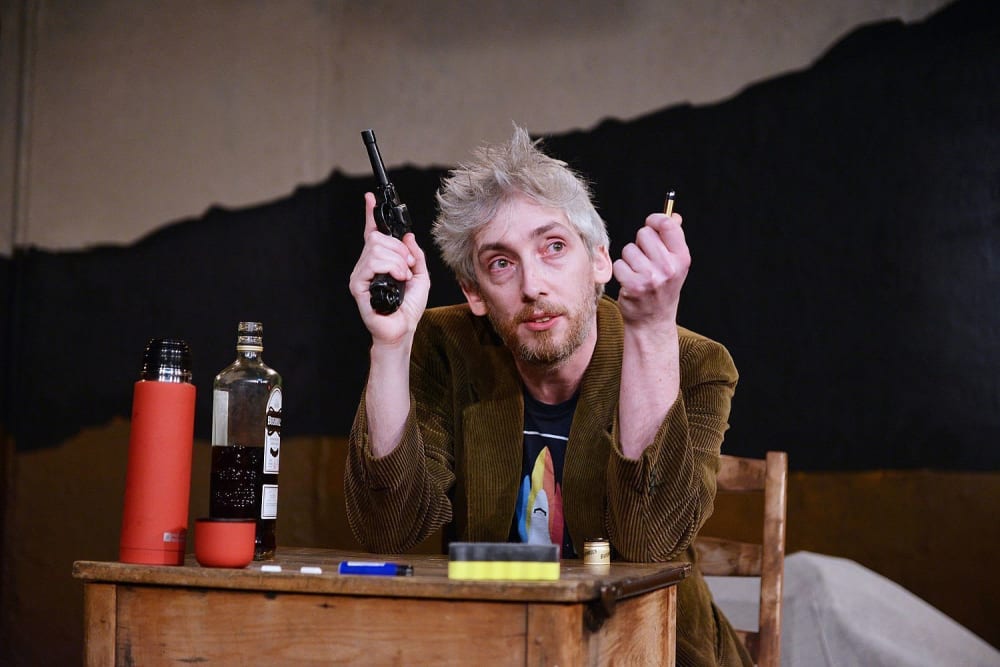 A triple bill of one act plays used top be a regular feature of playgoing providing a whole evening of entertainment rather than a television episode length starter before spending much longer in the pub or the restaurant. It is good to see the companies combining here reverting to old ways.
Two women hover like silvery ghosts in the half-light as the audience enter. Here, perhaps to suggest a tenuous link between all three plays, they create a feeling of mystery and anticipation. They won't be back until two plays later, but there is a thematic link. All three are monologues about stress and the idea of dying, though the impact of each is very different.
First comes David Spencer's Buried and the sound of panting and stifled screaming. When a light comes up on actor James Demaine as Max Spencer, first thought is that this is a man in the middle of orgasm, then that he's a seaman struggling against drowning. That is indeed part of Max's story: "the water is cold, freezing into the dark," he remembers, but now, as the title suggests, he is buried alive, fighting for life under debris after a German counterattack near Salerno in 1943. "You can't die," he tells himself, but he knows that he could.
This is a very personal history. It actually happened to dramatist David Spencer's father and the actor playing him is Max's grandson. Demaine delivers a fantastic performance that looks back on a whole life up to that point. There is the hungry childhood of a boy parted from his unmarried mother and brought up in a Bernado's home where he took all the beatings. The memory of swimming in the Liffey (it is Irish for Life) and in Dublin Bay, of the girl who "put her hand where a woman puts her hand when she wants to please a fella."
His body contorted, twisted beneath the rubble, confined by a circle of stones to one spot, his memories allow him to burst out all over the stage, which designer Anna Kezia Williams marks out with multiple locations. Co-directors Ryan Hutton and Alexander Knott (Artistic Director of the Old Red Lion) use Samuel Heron's sound design and precisely targeted lighting to support a riveting performance by Demaine that has directness that shares with every member of the audience. It is a tour de force that rarely gives him chance to even catch breath, exciting theatre.
Graceland by Max Saunders-Singer (who co-directs with Sonnie Beckett) is almost a comedy. It even starts off with a pratfall as a science teacher drops all his books as he comes in to teach the unruly class that the audience now represents. Oh, Mr Chrichton knows them well, immediately identifying which of his dyslexic pupils has written the obscene personal comment about him that is chalked on the blackboard. Is he surprised when no-one remembers last week's lesson? As he explains the scientific principles behind combustion, someone who has got hold of the remote turns on the overhead projector and a video that features Mrs Chrichton, the Maths teacher and the Headmaster.
Anthony Cozens gets just the right mixture of comedy and pathos as he shows Mr Chrichton cracking up in front of a class he can't handle.
The final play is Nuclear War by Simon Stephens. When it premièred at the Royal Court Theatre in 2017, it had a cast of five but is actually a monologue that in production can be played by several voices and its individual statements can be used or omitted as the production decides. Stephens described it as "a series of suggestions for a piece of theatre" and its text was always intended to spark interpretation in movement.
In this first revival, director Alexander Knott and movement director Georgia Richardson use only two actresses to represent the protagonist named only as "a woman". Sometimes, they speak singly, sometimes in tandem, delivering a text that is opaque and unsettling. It is not literally about nuclear war. Perhaps that's just a way of referring to living life. Somewhere in there, you discover she is missing a lover who died seven years ago and she is desperately lonely but mesmerised by the physical; as the performers interact or move simultaneously trying to understand becomes an effort. Zöe Grain and Freya Sharp are stylish performers and there is a sequence of contorted arms as they handle a teacup between them that sticks in the memory but not much else.
Reviewer: Howard Loxton