Nurse Nellie Saves Panto
Paul Hendy
Evolution Productions and the Marlowe Theatre, Canterbury
–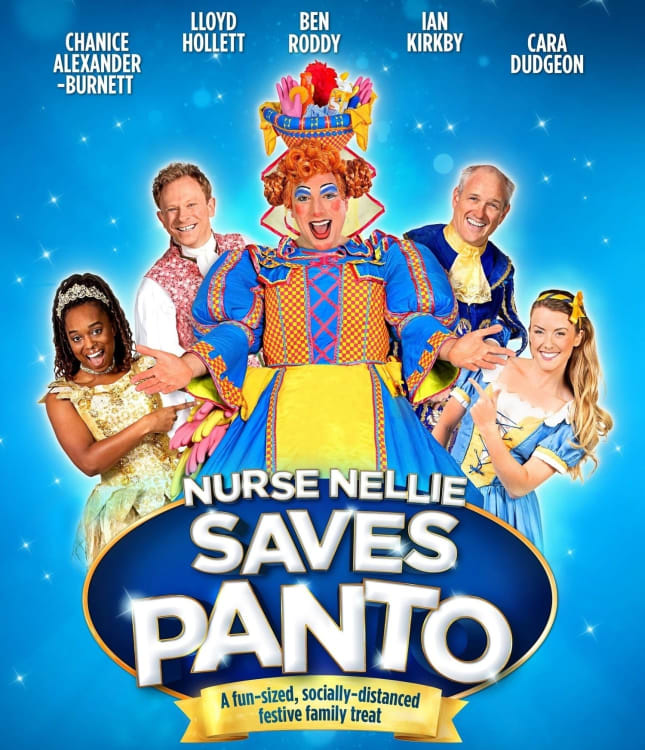 With fewer than ten pantomimes still able to perform due to Tier 3 and 4 restrictions, theatres up and down the country have turned from stage to screen to help spread some festive fun.
The Marlowe Theatre, Canterbury's pantomime is constantly one of the best in the country and this season continues its reign as one of the best online. Captured in front of an invited audience, the production not only celebrates the essence of pantomime, but puts it right at the centre of its plot.
Proprietress of the Panto Emporium Nurse Nellie and her children Jill and Billy have fallen on bad times. That, combined with the evil Baron Von Badapple's hatred of pantomime, spells a recipe for disaster. Von Badapple wants to rid the world of Britain's favourite artform, plunder the Emporium of its panto props and puns, steal the essence of pantomime and destroy it forever. Luckily, fearless Jill is on hand to formulate a plan, defeat Badapple and save pantomime for seasons yet to come.
2020 has been an historical year for the genre, not only due to its almost decimation on account of lockdown, but in the way new narratives have been created. Paul Hendy's script effortlessly provides all the much-loved and anticipated pantomime staples in a 90-minute production that leaves audiences wondering what was left out.
From Ghost Gag bench to comedy cart Pun Run, everything is present and correct with the pandemic providing extra humour as Hendy subverts usual conventions to implore audience silence as the correct response to Billy's "Hiya Gang!". Hand clapping and thigh slapping become drumrolls and the Ghost Gag's eerie quiet is overcome by frantic energy expressed through contemporary handography signposting the spectre's presence. Silly meets surreal in a production that acknowledges the limitations of shouting out and social distancing, but never overeggs the pudding.
There may be no live band or ensemble, but excellent musical direction and sound design from James Harrison and Remi Weaver combined with strong direction and choreography from Hendy and Simon Hardwick provide the illusion of a full-scale festive treat thanks to some savvy camerawork and limited wideshots. Dr Andy's video design reduces the need for complicated sets and allows for engaging animation Alice in Wonderland style as Jill journeys to Von Badapple's lair.
With Jill driving the plot, 2020 marks the first year that a commercial pantomime company has put its Principal Girl centre-stage in a quest narrative. This is an incredibly significant moment and will hopefully lead to more productions embracing change and shaking up the centuries-old art form.
Nurse Nellie Saves Panto celebrates the power of teamwork and being who you want to be as Chanice Alexander-Burnett's magical Fairy Moonshot and Cara Dudgeon's heroic Jill lead the charge. Reunited for another season together, Ben Roddy's Nurse Nellie and Lloyd Hollett's Billy are funny as ever and provide some much-needed comedy in amongst this year's gloom. Ian Kirkby's Baron von Badapple also gets a look-in with some excellent material, not least a sequence involving the 'Ba-Dum-Tsh Mach 2' which provides the wearer with the punchline to any joke in the entire universe.
Positivity and empowerment radiate from the production with musical motif "Together We'll Be OK" not only a fitting tribute to the late Bobby Ball, but also a reassuring message as we welcome in 2021.
Reviewer: Simon Sladen