Nutcracker
Wayne Eagling
English National Ballet
London Coliseum
–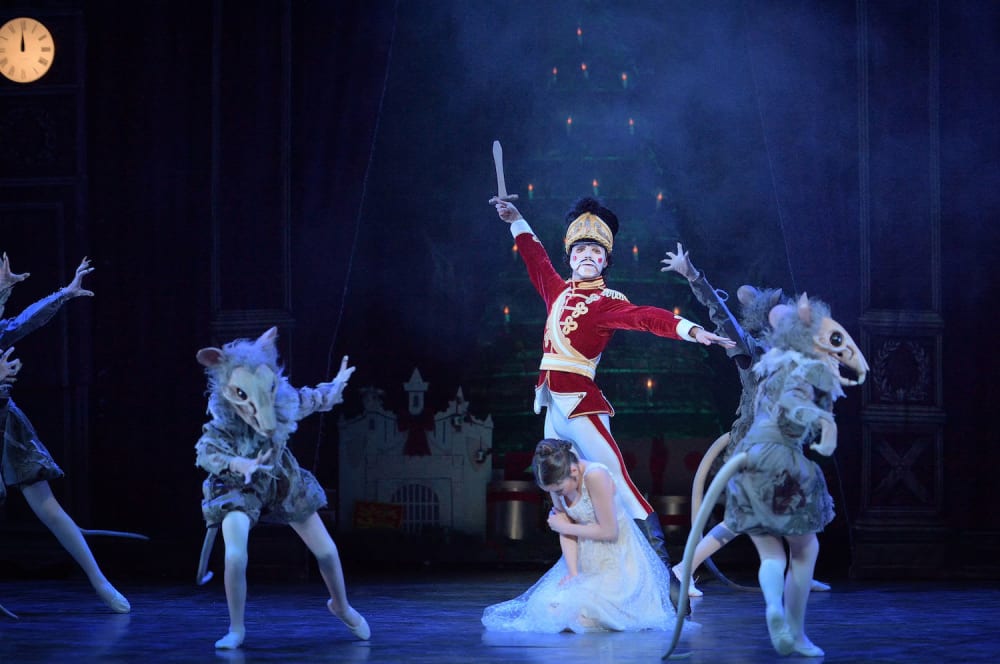 English National Ballet's The Nutcracker is a Christmas stalwart in the company's annual repertoire and tonight draws on the traditional production created by former ENB artistic director Wayne Eagling.
The first act creates a gleaming veneer of opulence; it's easy to slip into the atmosphere of bourgeois nineteenth-century Russia. As skaters (on rollerblades) glide across the stage, glittering snow falls and you can't help feeling the spirit of Christmas oozing out of the very pores of this production.
The party scene is packed with visual treats from tables laden with treats and beautifully executed ballroom dancing: all swishing dresses and bowing gentleman. Comic vignettes are built in from the spinning Russian elders with vast cloaks, Fabian Reimair's, Drosselmeyer, revealing magic tricks and cameos from doddery elderly guests, Jennie Harrington's Grandmother and Michael Coleman's Grandfather on the hunt for a tipple or comfy chair.
In true family party spirit, the older generation are pushed aside by children from Tring Park School for the Performing Arts and students from the English National Ballet who literally shine like new pennies in excitement: all neatly executed steps and swinging hair.
As part of the significant youth presence onstage, the young Sophie Carter is perfectly cast as Clara. She plays the role with sweet sincerity without going overboard on saccharine precociousness, so often the case when children are cast in ballets. Carter proves herself a prodigious performer displaying nimble, self-assured technique, yet somehow fragile up against the rest of the cast.
Meanwhile in her adult incarnation, Rina Kanehara as Clara is all willowy arms and wide expressive smiles as she embarks on her magical journey from her bedroom to the dreamy unknown. With transformation from innocent niece to lovesick girl pining for her prince, Kanehara is sweetly convincing as she rescues her injured prize.
Snowflake waltzes are danced with beautiful synchronicity and, as the snow machines pump out fake snow, the air balloon carries off Clara and the Nutcracker to the land of sweets in anticipation of what's to come.
The traditional staging of Eagling's version of the Nutcracker is familiar, though sometimes confusing. In this narrative, The Nutcracker doesn't just turn into magician Drosselmeyer's nephew, but keeps turning back again.
Weighing up against other Nutcracker versions—and I've seen more than a few—gruesome, battling mice loom large in this one, including literally hanging off the end of the balloon as the happy couple voyage towards the land of sweets.
While there's nothing wrong with too many mice, per se, they do tend to fight it out against the music at times which is a great shame given that Tchaikovsky's score never fails to impress no matter how many times you watch or listen to The Nutcracker. Tonight is no exception and Gavin Sunderland conducts the score with passion and precision.
It's the second act, though, that really strikes a chord, moving the action away from pure scene setting to virtuosi balletic moments. Daniel McCormick, Crystal Costa and Adela Ramirez dance with Latin gusto and flair as the Spanish dancers, while the Russians are as speedy as spinning tops and acrobatic in precise beats and turns. Meanwhile, floating pretty in pink Waltz of the Flowers with Tiffany Herdman and Precious Adams at the helm are all feline power, keeping the corps de ballet in strict formations like two female army generals.
The ENB's Nutcracker may be wheeled out every Christmas but tonight feels newly festive and spritely with dancers embodying the choreography with technical assurance. There are moments to cherish from playful miming to total enthrallment.
Yet when the snow starts falling, the music builds in all its powerful grandeur and the audience coo, my daughter clutches my hand tightly and whispers, "Christmas is coming." This Nutcracker for all it's familiarity (there are three versions out in London alone this Christmas) is a keeper.
Reviewer: Rachel Nouchi