Nutcracker

English National Ballet
Milton Keynes Theatre
–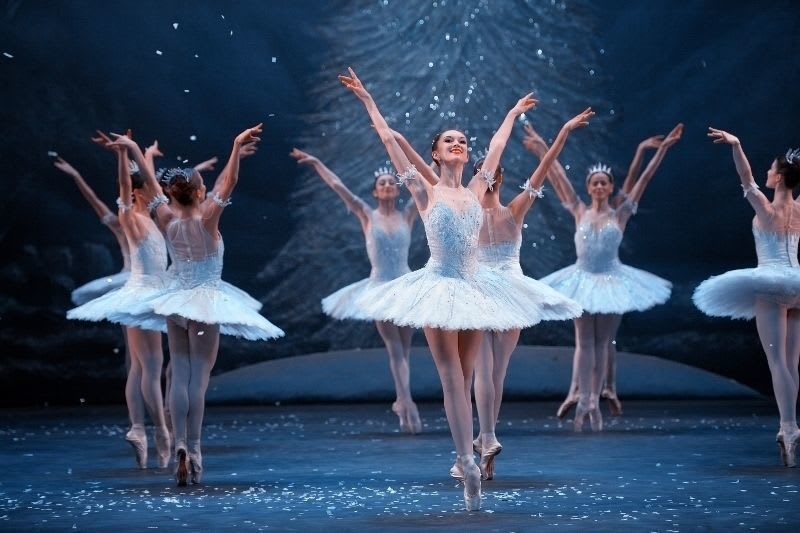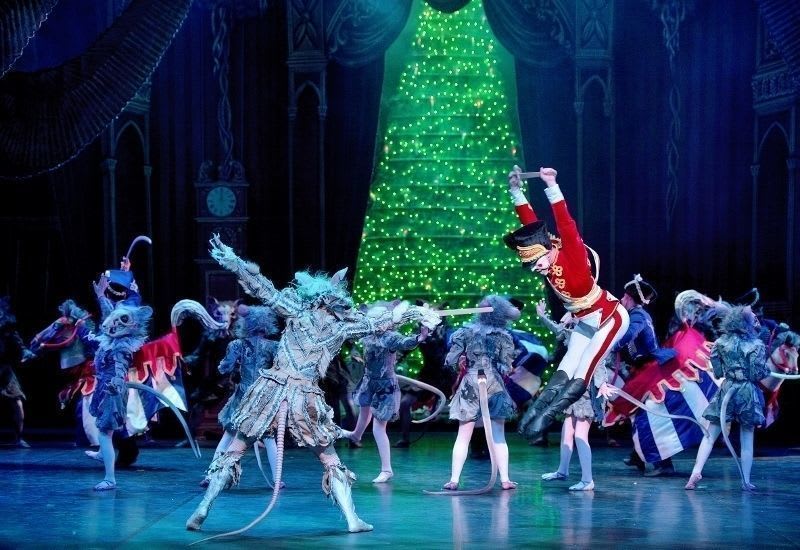 Following last year's success of former Artistic Director Wayne Eagling's Nutcracker, English National Ballet returns to Milton Keynes to open its seventh seasonal tour of Tchaikovsky's two-act classic.
Performed live by English National Ballet Philharmonic and conducted by Gavin Sutherland, Wayne Eagling's choreography and co-conception with Toer van Schayk are emblazoned with Peter Farmer's design and lighting by David Richardson. Casting sees Principal Alina Cojocaru as Clara, First Soloists Cesar Corrales and James Forbat in the roles of Nephew and Nutcracker, respectively.
Act one opens to a Christmas Eve party scene in Edwardian London, filled with young guests and stage-gliding skaters, performed by a strong and well-rehearsed child cast from Tring Park School for the Performing Arts. With the first act's theme of children playing children, Clara is danced by Sophia Mucha who demonstrates precise technique and musicality, confidently commanding the performance space.
Following a coming-of-age plot, Clara dreams of herself as an adult, at which point Principal Alina Cojocaru appears. Soloist James Streeter leads "The Battle" scene as Mouse King, again supported by a young battalion of rats, mice and soldiers from Tring Park School for the Performing Arts. Travelling to "Land of Snow", The Artists of the Company close act one in a beautiful rendition of Snowflakes, led by Rina Kanehara and Alison McWhinney.
The usual exotic divertissements inaugurate act two: Spanish, Arabian and Russian, with the most notable performance from Ukrainian-born Junior Soloist Katja Khaniukova in the Chinese medley, which she dances with spectacular attack and dramatism. Like Cojacaru, Khaniukova is a graduate of Kiev State Choreographic Institute and should be promoted to a higher rank in the company (she was Principal in her former company, the Kiev Ballet).
Laurretta Summerscales is partnered by Fabian Reimair in Dance of the Mirlitons, which in this production is performed by only one ballerina instead of the usual four. Eagling's ensemble masterpiece Waltz of the Flowers for the corps de ballet and Lead Flowers Isabelle Brouwers, Guilherme Menezes, Alison McWhinney and Vitor Menezes are danced in Farmer's dazzling pink-coloured costumes before the final pas de deux brings together Clara (Alina Cojocaru) as the Sugar Plum Fairy and Nephew (Cesar Corrales) as the Prince.
Winner of both this year's Emerging Dancer Competition and People's Choice Award, Mexican-born First Soloist Cesar Corrales does not form the strongest or most natural partnership with Alina Cojacaru, who is fifteen years his senior, not helped by Eagling's over-complicated pas de deux which contains quick and endless changes of position and weight placement, with circus-like sweeps of the legs, giving a less musically nor aesthetically pleasing result.
It is sixteen years since Cojacaru danced the role of Clara in the televised broadcast of the Royal Ballet's production of The Nutcracker and although the Romanian ballerina, who was injured earlier this year and unable to perform the role of Medora in Le Corsaire at the London Coliseum, retains weightless ballon and delicacy in her performance quality, her weight seems back, appearing to be walking heel instead of toe first across the stage.
The story is at times difficult to follow, especially with the ever-changing characters, Nephew doubling up as the Sugar Plum Fairy's Prince in the final pas de deux for example. However, the production remains a festive delight for ballet novices and balletomanes of all ages countrywide.
English National Ballet's Nutcracker season continues to Liverpool Empire before returning to London Coliseum from Wednesday 14 December 2016 until Saturday 7 January 2017.
Reviewer: Naomi Cockshutt