The Nutcracker
Music by Pyotor Tchaikovsky
St Petersburg Ballet Theatre
Derngate Theatre, Northampton, and touring
(2008)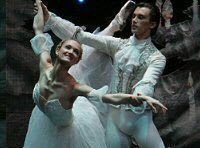 A fantastic orchestra helps a troupe of classical dancers to skillfully tell the fairytale-like dream of Clara in the Nutcracker at the Derngate in Northampton from Monday 21st to Saturday 26th January.
The well-known Tchaikovsky composed music is beautifully arranged and conducted by Aleksandr Kantorov, rising to crescendos and pitter-pattering magical little accompaniments to the extravagant images being created on stage.
There is a definite sense of opulence with the design of the show - with stunning costumes and extensive backdrops - the Christmas tree magically growing to accompany the depth of 'the dream' stands out.
The dancing itself ebbed and flowed. There were moments of imaginative movement - choreographed by Konstantin Tachkin The corps de ballet pieces, in particular were exciting and energetic. The snowflakes, heralded on to stage by the lighting of the tree, created beautiful shapes, straights and contours.
Despite the little touches - the clock changing with time, the effortless lifts and the elegance of the Eastern dance - there did seem to be something missing that prevented this good ballet from becoming a great one. The difficulty is in finding out what that something is.
Perhaps the youthful company, who are no-doubt skillful and talented, yet lack the years of experience of some Prima Ballerinas are a contributing factor. There were little mistakes from some, yet it was more moments of dropped passion than dropped steps that mattered. This was a shame, as there were obvious inspirational flashes in the production. The Dolls at the beginning of the show were well executed, the finale to the sugar plum fairies was a great company dance and the Spanis' piece sparked the Ballet to life.
There are many who will benefit from seeing this version of the Nutcracker. It has a traditionalist's touch with the stunning orchestra, decorative design and elegant choreography. Olga Ovchinnikova portrays the role of Clara with a subtle but convincing allure. There are also visual moments, typified by the company on a variety of levels at the finale of the land of sweets section.
Therefore, if it's a traditional, visual Nutcracker you seek, you can't really go wrong than taking a trip to the Derngate. However, if it's a completely polished Ballet or a step of perfection you are after, you may do well to look elsewhere.
Reviewer: John Johnson