The Nutcracker
Adapted from ETA Hoffman's original novel by Hattie Naylor, with music and lyrics by Paul Dodgson
The egg, Bath Theatre Royal
(2008)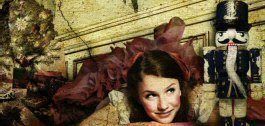 Bath's egg theatre explodes into a riot of colour, song and gothic fantasy in their Christmas production, The Nutcracker. Written in 1816 by German novelist E.T.A. Hoffman, The Nutcracker and the Mouse King was never intended for a child audience: with its grotesque, seven-headed Mouse King and a gruesome attack upon an infant, the bleak, gothic pessimism of the original has little in common with the sugar-plum, happy-ever-after sweetness of the obligatory yuletide ballet. Hattie Naylor's masterful adaptation is a triumph. She has kept enough of the dark heart of the original to make this a surprising and truly memorable production. Paul Dodgson's score, the on-stage musicians, Hayley Grindle's design and Kate Waters marvellously choreographed stage-fights add to the magic.
Without exception, the cast of nine give strong performances, with the delightfully bizarre but engaging Uncle Drosselmeier, played by Hungarian actor Robert Luckay, and the versatile Alexis Terry as the endearing Clara and the terrorising Mouselink, giving perhaps the most memorable of the evening.
The chilling scenes of the end of the first act have the children in the audience covering their eyes in terror but the story is all the better for it: after all, every great fairy-tale needs its villain. And the evening has laughter, romance, magic and spectacle a-plenty, making this the must-see production of the festive season.
Runs at the egg, Bath Theatre Royal until 10th January, 2009
Reviewer: Allison Vale