Oberto, Conte di San Bonifacio
Giuseppe Verdi, Libretto by Antonio and Temistocle Solera
Teatro Regio di Parma
Teatro Verdi di Basseo, Parma, Italy
Released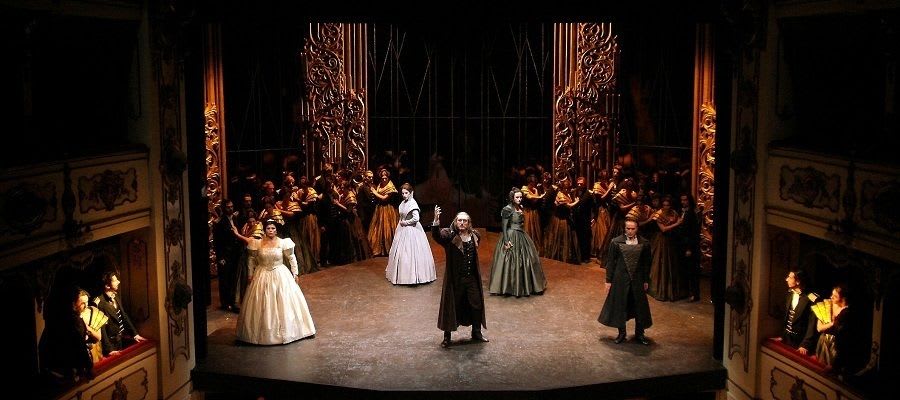 It would be extraordinary for a composer to make his debut at La Scala, Millan. But that is exactly what Giuseppe Verdi did.
Oberto, Conte di San Bonifacio premièred at La Scala in 1839 and with such success (fourteen performances) that the Scala commissioned two more operas. Verdi was 26-years-old. His career was launched and he would go on dominate the operatic scene for the rest of the century
Oberto is rarely performed these days and is of interest, especially to Verdi lovers, precisely because it is rarely performed. This production, directed by Pierre Ali and conducted by Antonello Allemandi, was seen in 2007 at Teatro Verdi di Bassetto, Parma, Italy, Verdi's hometown. The 300-seater theatre has an annual Verdi festival.
Orberto, a typical romantic, pseudo-historical melodrama, tells a story of betrayal, honour and death. It is set in the 13th century but has been updated to the 18th century.
Riccardo (Fabio Sartori) seduces Leonora (Francesca Sassu) and promises to marry her. But then he ditches her so he can marry Cuniza (Mariana Pentcheva). Leonora and her father, Oberto (Giovanni Battista Parodi), take it very badly and vow revenge.
What comes across strongly is Cuniza's decency and compassion. There is a strong performance, too, by Parodi. Father-daughter relationships would later become a key feature of so many of Verdi's operas.
The high spot is a quartet in which the four characters each voice their differing reactions. Riccardo expresses his shame. Leonora expresses her love for him still. Cuniza is absolutely adamant that Ricardo should do the right thing and marry Leonora. Oberto thinks only of killing Riccardo.
The stage is very small. Pierre Ali solves the problem by eschewing reality and being as formalised and symmetrical as the opera itself. The singers stand (often in a spotlight) and deliver out front. They pose rather than act. The production is notable for its expressive hand gestures.
There is no chemistry between the characters. The singers look as if they have stepped out of some old print. Ali moves them around like chess pieces. It is all very artificial and its artifice is perfect for this tiny stage.
Reviewer: Robert Tanitch