Occupied
Carla Grauls
Theatre503 and Hurlyburly Theatre Company
Theatre503
–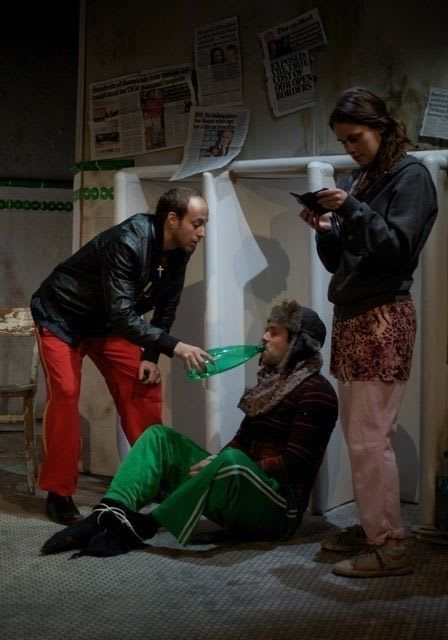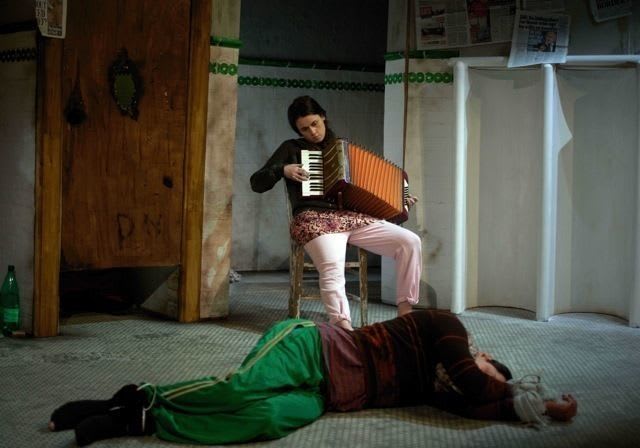 The premise of Occupied appears relatively simple but the script pulsates with a dark and complicated heart.
The stage at Theatre 503 has been magnificently transformed by Petra Hjortsberg into a grubby and ageing public toilet complete with broken sink, filthy floor and disused urinals.The grimy walls are covered with clippings from The Daily Mail and one toilet cubicle is piled high with plastic bags and other junk.
The squalid environment is home to Alex (Mark Conway) and Andrea (Josie Dunn) who are Romanian immigrants keen to become English. They are so enthusiastic in fact, that they have kidnapped Tom (Joe Marsh) who lies on the floor, bound and gagged, as the play begins.
What unfolds is a journey of discovery for all three characters as the theme of Englishness is questioned again and again with the script attempting to bypass stereotypes whilst at all times consciously adhering to them. Tom suggests TV programmes and talks of Saturday football, pub brawls and the Argos catalogue whilst Andrea plays her accordion and Alex swigs Romanian moonshine.
They are occasionally interrupted by a Romanian homeless woman (Fiz Marcus) whose presence adds a melancholy and occasionally threatening feel to the scenes. Her wide eyes suggest past horrors; Marcus maintains an air of desperate mystery throughout.
Despite the bleakness of the situation, however, this is a comedy, albeit a very dark one. There are some fantastic moments of dialogue that highlight both the difference and similarities between the two cultures. A section in which Tom pretends to be a girl to enable Alex to practice his chat up lines is a particular gem and reveals far more about Tom's attitude to women than Alex's potential success rate.
The trio's developing relationship is marred by violence, prejudice and stubbornness but there are touching moments providing reflective glimpses into their difficult pasts.
Dunn is captivating as the brittle young prostitute and Conway's conflicted Alex is simultaneously a comedy caricature and troubled man. Likeable yet scarily unpredictable.
Much like her characters, Carla Grauls's script is driven by a sense of urgency but without obviously clear direction. This results in beautifully naturalistic dialogue but a meandering feel, particularly in act two.
Anna Mors's production is compelling viewing, however, creating a stark, bold, sensitive and poignant piece of theatre.
Reviewer: Amy Yorston