The Odyssey
Homer, adapted by David Farr
Bristol Old Vic
(2005)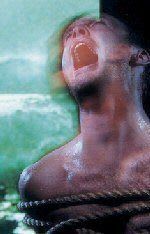 Reconfiguring Bristol Old Vic's 18th century interior to create a theatre in the round has, apparently, been a longstanding ambition of David Farr and Simon Reade, joint artistic directors of the Old Vic. Well, one says 'longstanding', but in fact it dates back two years to when they took over the helm of the ailing theatre, now in rude health. This Odyssey is, perhaps, Farr's last voyage since he is due to ship out shortly to assume directorship of the Lyric Hammersmith.
This production already has a 'buzz' about it. I'm told early viewers have already re-booked for another outing, while I overheard one excited audience member on the phone to a friend or family member in the interval, "It's wonderful - so imaginative". Reviews thus far have been mixed, the show wowing one critic and leaving another, at least, moored in the dock of the bay.
For this is no straightforward, if such a thing is possible, adaptation, of Homer's epic poem. Rather Farr, who directed an acclaimed adaptation here last year of another epic, Paradise Lost, has reconceived Odysseus as one shipwrecked on these shores in the present day where, in a country obsessed by asylum seekers and illegal immigrants, he receives a rough welcome.
Fair enough, you may think. Farr is bringing a classic to a new audience and exploring its meaning in the light of current events. The problem is that the move seems principally motivated by a desire to indulge in some pretty heavy-handed satire of our attitude to outsiders and, despite a sense of fair play, to ride roughshod over the rights of others when we feel threatened.
And it means accepting that a stranger, telling tales of one-eyed flesh-eating monsters and goddesses able to turn men into pigs, would be believed and then put on a flight back to his homeland because the stories have moved an immigration official so, at the risk to his job, we are told. Quite how our hero came to be so far off course as to make it here is also unexplained.
Having got the objections out of the way first, it has to be said that there is much to enjoy in this sparkling production which is full of incident, not a little wit, and is well-performed by the cast of six who double up and even treble roles. It is boosted too by a musical score, devised and co-performed by the enviably multi-talented Stu Barker, with the cast, among whom Colin Mace (Roger, Interrogator One et al) and the lovely Agni Tsangariou (Maria, et al) shine particularly brightly. It would be invidious too to leave out Robert Bowman as the intrepid Odysseus.
The set, by Angela Davies, which see the aisles of the Old Vic transformed into the deck of a ship, is very nicely done. And the creation of Cyclops with a single lamp is a lovely touch. Homer's poetry surfaces occasionally but, to be honest, is largely absent. Still, if the production brings new readers to The Odyssey and return visitors to the theatre it will have done much.
Two moments in the production which linger: the two interrogators turning immigration procedures into a song and dance number in a particular moment of light tough and the assembled cast singing a lament to their homeland left behind in a particular moment of pathos.
John Thaxter reviewed the revival of this production at the Lyric, Hammersmith
Reviewer: Pete Wood