The Odyssey
Homer, adapted by David Farr
Lyric Hammersmith
(2006)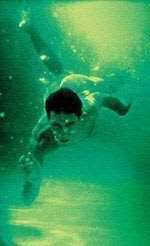 David Farr's 'trip, based on Homer', features a Cyclops like a lamp-post on legs, its light turning red when it gets a poke in the eye, plus actors scampering about the stage in their underwear disguised as pigs and rams. The lotus eaters are hippie flower people, while Circe, in the alluring personage of Mia Soteriou, is a reclining Pirelli calendar girl for the month of June.
It was first seen a year ago with a different cast at the Bristol Old Vic and West Yorkshire Playhouse, when it received mixed notices from "wow" to "whoops"—mostly the latter—not least from my colleague Pete Wood, a response to its imaginative but heavy-handed satirical approach to the epic poem.
Taking an objective view, the piece is a mess, an attempt at Kneehigh populist performance theatre, including Kneehigh's versatile Stu Baker as musical front man, but lacking Emma Rice's light, comedic touch and narrative logic.
Farr draws on Homer as an excuse for several ingenious stage effects, designed by Angela Davies. But his production is too often in danger of being taken over by effects and concepts for their own sake, rather than as a contribution to the stirring story of a victorious soldier on a troubled sea voyage home.
He has also been unable to resist the temptation to give the tale a 'contemporary' twist as Odysseus falls into the hands of a couple of bully boys from the Immigration Service and gets duffed up as an illegal immigrant, although he protests that he simply wants to get back to Ithaca, home and beauty.
Some years have passed since I first read the poem in E V Rieu's Penguin translation, but I cannot recall Odysseus having much of a conscience about the cruel treatment he and his Greek troops had meted out to the people of Ilium after the siege of Troy.
But here we have a hand-wringing reaction to the plight of the Trojan boat people: asylum seekers, banged up in a British detention centre, keeping up their spirits with a folksy Aegean knees-up and re-enacting the horrors of war with a couple of clumsy puppets, for which Mervyn Millar unwisely takes a programme credit.
I missed seeing Robert Bowman at Bristol as the intrepid Odysseus. The role is now taken by Stephen Noonan as a glum malcontent with a six-day growth of beard and shabby trousers, a totally improbable figure to inspire lust in all those Greek island goddesses who detain him for sexual services, while he can only dream of his wife Penelope.
Dave Fishley is hoisted above the stage as a scene-setting goddess Athena, spilling the beans on Poseidon's mean spirited sea-god. And he also doubles splendidly in several roles, including an Ithacan ancient with a hint of incipient Parkinson's.
But among a hardworking cast of six, the outstanding performance comes from Colin Mace, repeating his performance as first British interrogator, a Ricky Gervais lookalike with all the chummy, 'good cop' nastiness of Martin McDonagh's The Pillowman at the National three years ago, and for which Mace should surely be first choice when casting for a revival of the play.
Lyric Hammersmith performances continue until April 1st, 2006
Reviewer: John Thaxter