Oedipussy

Spymonkey
Dukes Theatre, Lancaster
–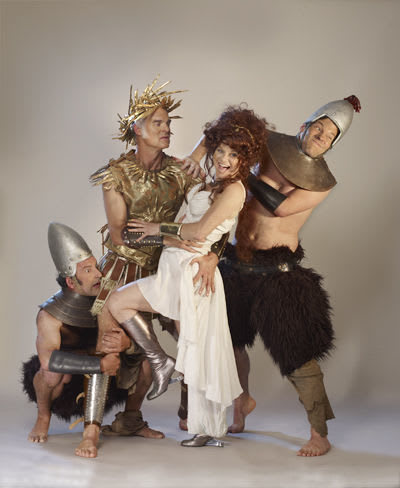 It's a brave, or daft, theatre company that opens its latest show by recounting a cutting review of their last production.
Then again a physical comedy ensemble like Spymonkey didn't get where they are today by being spineless and sensible.
So having resolved to learn from that particular critic's comments, about their performance of Moby Dick, they then set about doing—basically—the same thing all over again, this time with Sophocles' Greek tragedy of the mother-loving Oedipus.
The "lodestone of Western drama" pretty well sinks without trace beneath a frenetic few hours of corporeal comedy that hits its target juvenile audience straight between the funny bones.
Spymonkey's skills have been honed over 15 years, with frequent appearances in Edinburgh and around the world. What they now deliver is fringe theatre on a big budget, which is only one of their contradictions.
The other is that a group of middle-aged physical theatre exponents are bound to experience the occasional lack of momentum to their slapstick silliness.
They admit to it, frequently, with each making an audience aside or "inner dialogue" confiding they plan to leave the company soon and sharing their dreams with us!
Which would be a shame, since at their best they can still be startlingly funny, serving up some sight gags to treasure. Top of the league had to be the Singing Lepers. You'll gather we're not talking good taste here.
The music, sound, lighting, staging, costumes and props are all quite brilliant and evidence of the company's budget.
Top director Emma Rice and their writer Carl Grose are further proof of the substantial resources expended.
So it's just a shame that an extended joke is stretched over two one-hour acts when 90 minutes straight-through would have been quite sufficient.
Oedipussy, why didn't your mother tell you?
Reviewer: David Upton