Of Kith and Kin
Chris Thompson
Bush Theatre and Sheffield Theatres
Crucible Studio
–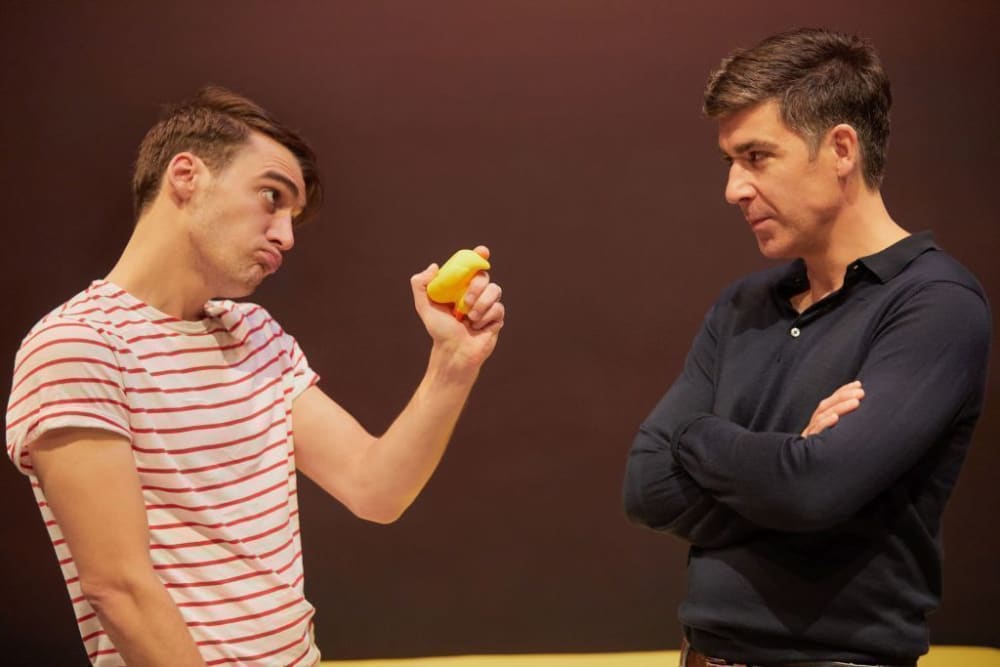 Chris Thompson's play, commissioned by the Bush Theatre in London, explores a wide variety of issues relating to gay marriage, surrogacy, inter-generational relationships, the suitability of people to foster or adopt and amongst much else, the recognised tendency of abused children to turn into adult abusers. So it is a rich and complex play, honest and informed, which provides the audience with much to think about.
Daniel and Oliver are introduced as a happily married gay couple, who have decided to enrich their lives further by becoming the parents of a child. Daniel's friend Priya agrees to become the surrogate mother and the threesome are initially seen enjoying a private baby shower party on the eve of the child's birth. Daniel's mother turns up uninvited and, from then on, the small cocoon of happiness unravels to expose the coruscating influence of 'kith and kin'.
The play's structure is reminiscent of Ibsen, where layers of the onion are gradually peeled off to reveal more about the family context and, more tellingly, flaws in the central relationship which are exacerbated when the pressure is on. Thompson also includes a second act courtroom scene, reminiscent of Miller, which occasionally stretches credulity, when Daniel, a lawyer representing himself, allows himself to be goaded into uncontrolled and self-revealing behaviour.
Thompson is an excellent word-monger but I would have liked more space for implication. A telling moment in the first act is when Daniel's mother Lydia discovers that the other potential 'grandmother' has been invited to stay after the birth of the baby so there won't be room for her. The silence is eloquent.
Robert Hastie's production is tight, well paced and flawless. James Perkins's economical set transforms easily into the hearing room of the Magistrate's Court and later into the child's nursery.
There are strong and convincing performances from each member of the small cast. As Daniel, James Lance is a dominating presence in the family and court scenes. We can see that his suppressed violence is not far from the surface. Joshua Silver's Oliver is a peevish and not very likeable character but his character development in the course of the action suggests increasing maturity and self-awareness.
As Priya, the good friend, Chetna Pandya has an important role in the first act in signalling her absolute acceptance of the men's sexuality and normalising their sexual playfulness. Pandya brings range and variety to her performance, warm and good humoured in the opening act, dignified in the court hearing and emotionally conflicted at the end.
As the convening Magistrate in the Adjudication hearing, Donna Berlin is dignified and reasonable but is presented as an official with little authority over her court.
Joanna Bacon is impressive in the two contrasting roles she plays. As Daniel's tactless, argumentative, interfering mother Lydia, she demonstrates how an unsympathetic relative can drive a wedge through a seemingly harmonious relationship. She is transformed in the second act into an elegant, confident, manipulative lawyer whose relentless questioning undermines Daniel's attempt to present himself as a suitable father. Daniel's life is seriously affected by his encounters with these destructive women.
Chris Thompson has won and been nominated for theatrical awards, and this play, though somewhat over-wordy, is worth seeing for its complex analysis of a complicated situation. Audiences should be aware that the play contains strong language and scenes of a sexual nature.
Reviewer: Velda Harris