Of Mice and Men
John Steinbeck
Leeds Playhouse, Birmingham Rep and Fiery Angel
Leeds Playhouse
–

Listing details and ticket info...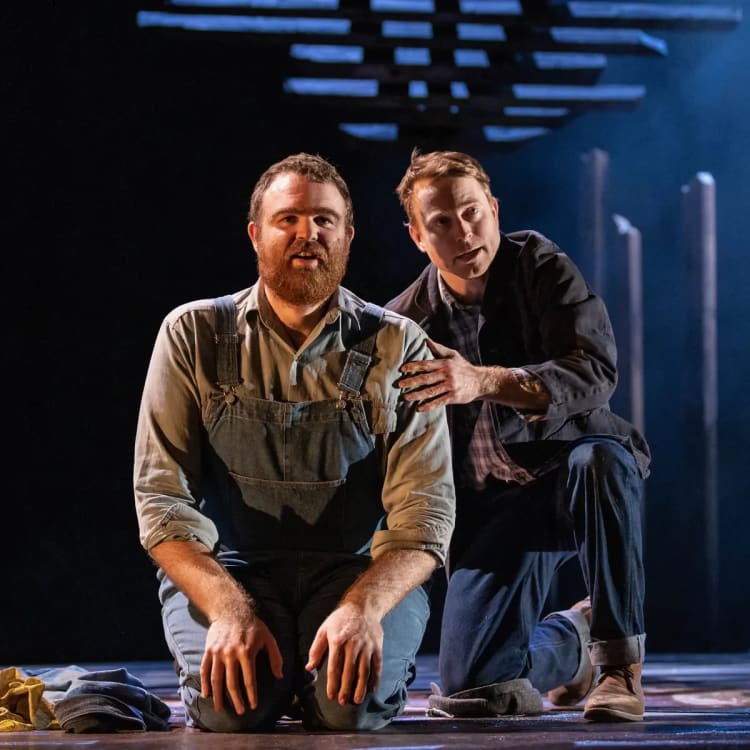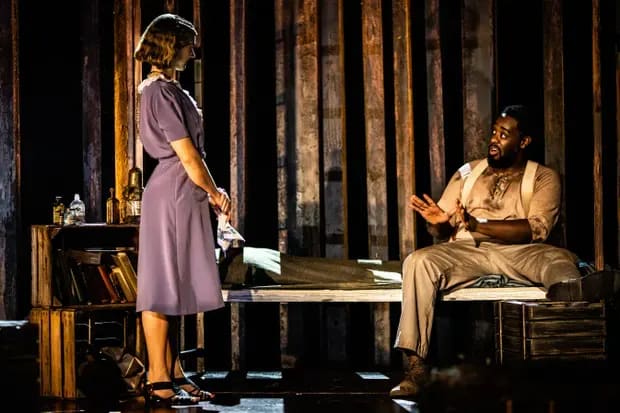 Like many people in the UK, I first encountered Of Mice and Men whilst at secondary school. Whereas some of the other books I studied at GCSE are forever tainted by the stresses of revision and exams, this is resolutely not the case with Steinbeck's mini-masterpiece, which I remember fondly for its well-drawn characters, propulsive storytelling and atmosphere of impending doom.
Unlike other stage versions of classic novels, Of Mice and Men is not credited with a specific adaptor—presumably because much of the dialogue is taken directly from the original novella. Steinbeck worked alongside migrant farm workers during his teenage years, and these experiences fed directly into his fiction, imbuing his stories with greater realism and texture.
Set in California during the Great Depression, Of Mice and Men focuses on the lives of two itinerant farm labourers—George (Tom McCall), a bright but uneducated man, and Lennie (William Young), a gentle giant with a mental disability—who long to find a place of their own in a hostile world.
After being forced to leave their previous jobs (Lennie couldn't resist the urge to fondle a woman's dress), the two men manage to get temporary employment at a new farm in a different part of the state. However, complications involving the boss's hot-headed son, Curley (Riad Richie), and his lonely wife (Maddy Hill) ultimately lead to tragedy.
Iqbal Khan's staging Of Mice and Men preserves many of the novel's finest features, successfully demonstrating that Steinbeck's novella—with its themes of economic migration, prejudice and exclusion—remains (sadly) relevant after more than eighty years.
The sparseness of Ciarán Bagnall's wooden-slatted set captures the discomfort and bareness of the main characters' lives, and Elizabeth Purnell's score adds to the sense of period whilst also creating an undertow of dread.
Tom McCall excels as George, convincing us of his affection for Lennie early on whilst also intimating that he has the grit and street smarts required to survive Of Mice and Men's tragic finale. William Young, who suffers from complex learning disabilities in real life, is often affecting as Lennie, capturing the character's soft-heartedness.
Amongst a strong supporting cast, standout performers include Reece Pantry as black stable hand Crooks, who manages to transmit the character's sense of powerlessness and isolation, and Maddy Hill as Curley's openly reviled wife. Whereas other productions have chosen to emphasise the latter's character's flirtatiousness, Hill makes her deeply sympathetic by stressing her loneliness and hunger for attention.
While there is so much to enjoy and admire in this production, I must confess that I found myself slightly underwhelmed at the end. In hindsight, I think this is largely due to the pacing of the show—which is occasionally sluggish—and a slightly bloated running time. That being said, the production has received considerable praise from other critics, and I imagine that many fans of Steinbeck's original novella would find this a stirring evening at the theatre.
Reviewer: James Ballands