Of Mice And Men
John Steinbeck
The Lyceum, Edinburgh
–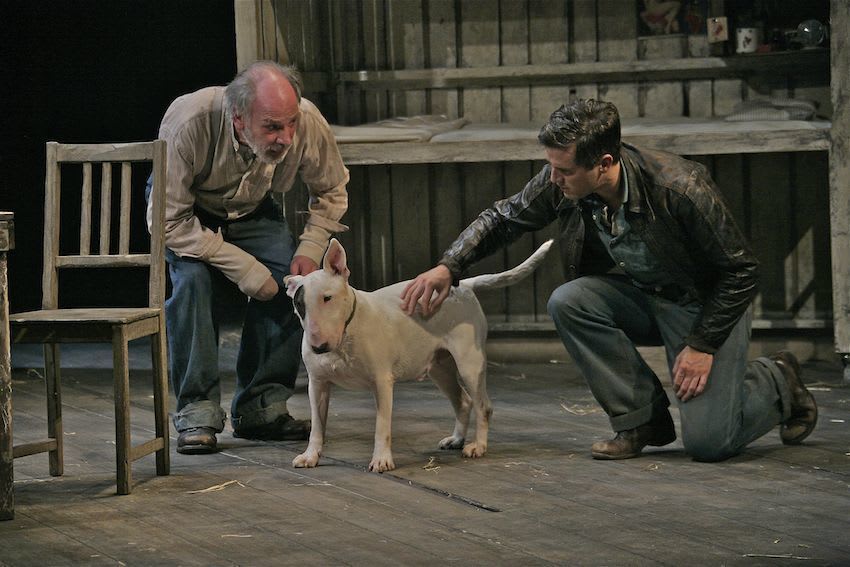 John Steinbeck wrote in tough times that put our present problems in perspective. Things aren't yet as bad as they were after the Great Depression in which employment for those at the bottom, if they could get it, was frighteningly precarious. The exploration of how people react to this difficult situation does provide valuable lessons to us today.
Written first as a short story, and one that the author had intended for children, Steinbeck's dramatisation created a big play and the Lyceum gives it the respect and breadth it deserves. The stage is a gigantic barn, a monument to the US's large-scale agriculture, but more significantly the vast country itself.
Against this vast wooden backdrop enters the slight figure of George (William Ash) and the much larger figure of Lenny (Steve Jackson). The two are well cast and played in such a way that neither is really more sympathetic than the other. Their relationship is what is ultimately to be admired rather than either character alone.
This sense of working together is also shown through the isolation of the other characters. The lovable bumbling Candy (Peter Kelly) whose loss of hand and age puts him closer to the scrap heap, Crooks (John Macauley) who is separated from the others for his race and Curley's wife (Melody Grove) for her sex. Spelling it out like this makes the allegorical nature of the play seem rather obvious and obtuse, but the characters are not mere victims; they are real and Steinbeck has given them many eloquent lines.
Curley's wife's interaction at the end with Lenny is one example of this with a really touching conversation between the two at the play's devastating climax. There is also the way all of these isolated characters manage in their own way to be optimistic about their future even when the reality is so bleak.
A really affecting production of Steinbeck's classic which reminds you that when times are tough we need to look out for each other.
Reviewer: Seth Ewin