Of Mice and Men
John Steinbeck
Watermill Theatre
Watermill Theatre Newbury
–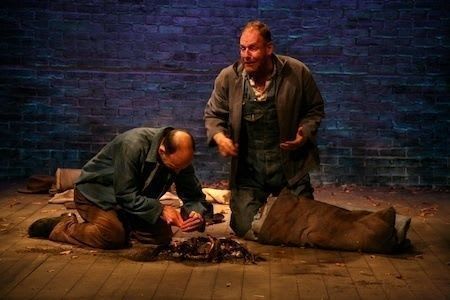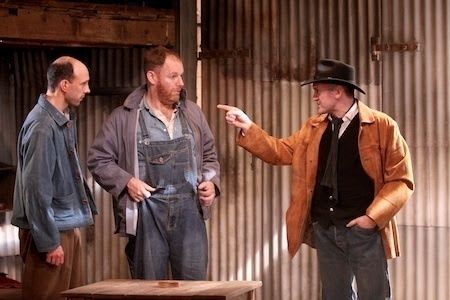 John Steinbeck's Of Mice and Men, set in the American economic depression of the 1930s, resonates with the current financial trouble we are facing today. Politicians are encouraging us to 'get on our bikes' and find work, and that was the case in this gritty, compelling story of two migrant workers, Lenny and George, drifting between farms trying to find work.
Director, Douglas Rintour's impeccable production conjures up the claustrophic atmosphere of the farm and the bunkhouse, strikingly designed by Hayley Grindle with corrugated iron panels and dramatically lit by Paul Anderson.
David Ganly perfectly captures the innocence of Lennie, who suffers from a mental disability. He's a gentle giant of a man with the strength of three men and this causes problems when he accidently kills a mouse and a puppy he was petting. Tomas Padden gives a riveting performance as George, Lennie's travelling companion who promised his aunt that he would look after him. They had to escape from the last town when Lennie touched a woman's dress and wouldn't let it go.
Both men have a dream of owning their own farm and keeping rabbits and eke out a living working on the land.
Among the rest of the ranch hands, old Candy (Johnson Willis), who lost his hand in an accident, is also desperate to leave the farm and has saved up some money and wants to go into partnership with George and Lennie. His constant companion is an ancient dog that Carlson (Carl Patrick) abhors and eventually shoots.
Tom Berish is splendid as the Boss's hot-tempered son Curley. He is the typical bully and madly possessive of his new wife, a sassy performance from Siobhan O'Kelly who wants to be a movie star and constantly visits the bunkhouse and flirts with George.
By contrast, Slim, the "prince of the ranch" and team leader, sensitively played by Ian Porter, befriends George and they are able to share confidences. There are racial tensions with Crooks (Jeff Alexander) the black farmhand being segregated and living a lonely life in the barn surrounded by his books. Nicholas Hart plays the young enthusiastic farm hand Whit.
But plans are dashed when Lennie's overpowering strength leads to disaster in a final dramatic, emotional and moving ending that leaves you in a state of disbelief and tugs at your heartstrings. Highly recommended.
Reviewer: Robin Strapp