Office Suite
Alan Bennett
Minerva Theatre, Chichester
(2007)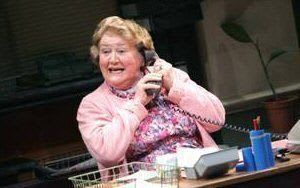 After its time in the doldrums when the productions on offer here were artistically challenging but box office death, Chichester Festival Theatre is sweeping away the cobwebs with a new broom in the shape of Artistic Director Jonathan Church, who is on a three year contract to see what he can do to help, and what he has done so far is very good indeed.
Attendance figures had slumped to a disastrous 106.000, but last year saw them rise to a healthy 142,000. "We're not out of the woods yet" says Church, but they're certainly on the right path, and he revealed that the people of Chichester are not slow to stop him in the street and give their opinion. Well, every little helps, as the supermarket tells us.
With a view to increasing the audience figures even further he has extended the season to begin mid-April, and a fascinating and varied programme is in store – the first offering being a pretty safe option. Chichester is noted for the number of silver heads in the audience and these two plays, written in the seventies for television, are high on nostalgia and very much a reminder of how things have changed over the years.
Office Suite is a double bill of one act plays - A Visit from Miss Prothero and Green Forms - both concerned with the relentless march of time causing changes and consternation in the workplace, all in the name of progress. Mr. Dodsworth now retired, has taken up pottery, cookery and music, while contentedly conversing with Milly, his budgie. "Retirement is a full time job!" Then Miss Prothero arrives from the office to bring him up to date with the news. He is just quietly wishing that the "boring old cow" would go home when she hits on something that really grabs his attention. Their 'new broom' has scrapped the efficiency improvements he spent four years of his life implementing and the filing system is now computerised. Suddenly office news has become riveting and was his time and effort totally wasted?
Green Forms takes place in a small office of the same period with Doreen and Doris happily engaging in cosy chat, with the occasional interruption of a little desultory filing and form sorting, when a name on one of the forms catches their attention. The dreaded Dorothy Binns is heading their way with the threat of redundancy. "Why can't things stay exactly the same all the time?" wails Doreen. "Machines change people!" How True!
Bennett's wry observational humour together with well-loved Chichester resident Patricia Routledge's perfect comic timing is a winning combination and opening in the smaller Minerva theatre is perfectly suited to the intimate nature of the play, but if they had expected the surge of interest that this mixture provoked they would probably have placed it in the larger Festival venue. Not only has the entire run sold out, even prior to opening night, but they had people queuing an hour before the box office opened. Some had even brought deckchairs, coffee and sandwiches to make their wait comfortable. Chichester is alive and well after all.
As you would expect there are superb performances all round with Routledge as the busybody Miss Prothero and then the inefficient Doreen, and although these are plays where nothing much happens they were extremely well appreciated. Edward Petherbridge is splendid as Dodsworth, and his fast-paced discourse as union official Mr. Lomax received spontaneous applause, while Janet Dale as office 'worker' Doris excelled and even the small part of assistant Boswell, with not a word to say, was interpreted perfectly by David Bannerman.
Edward Kemp directs with a light touch, letting the dialogue speak for itself, and Simon Higlett's sets are spot on for each scene – Dodsworth's slightly shabby comfortable home with old fashioned furniture followed by a run down dusty office.
A good choice of production to begin the season, winning back the original audience, while the real excitement is yet to come.
Until 12th May, then touring
Reviewer: Sheila Connor